Malcolm-Jamal Warner Reprises Sidney Poitier Role in the Huntington Theatre's Guess Who's Coming to Dinner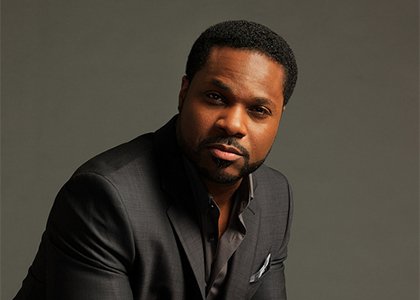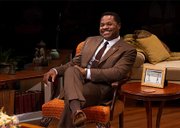 In the public eye since he was a teen, Malcolm-Jamal Warner is best known for his role as Theo Huxtable, the only son of Cliff and Clair Huxtable on NBC's top-rated and popular 1980s sitcom, The Cosby Show. In 1986, he was nominated for an Emmy for his work on the show as Outstanding Supporting Actor in a Comedy Series. He shot the pilot for The Cosby Show when he was 13 but actually started out in community theater at the age of 9. His mother was always looking for things for him to do to keep him out of trouble. One year after basketball season had ended a friend of his mother's suggested an acting workshop for young Malcolm. He auditioned for it, landed an agent, and as they say, the rest is history.
In the 20-plus years since The Cosby Show ended, the 44-year-old carved out a career for himself as an accomplished actor, director, and producer. In 1994, he made his film debut in the action film Drop Zone starring Wesley Snipes. From 1996 – 2000, Warner starred in the television show Malcolm & Eddie opposite comedian Eddie Griffin, and also composed the theme music for the sitcom. In 2011, Warner starred in, produced, and directed BET's original series, Reed Between the Lines with Tracee Ellis Ross. He's also appeared on NBC's Community and The Michael J. Fox Show, as well as TNT's HawthoRNe, Showtime's Dexter, and Sci-Fi's Jeremiah.
This modern-day Renaissance man is also a poet and a bass player, and fronts his own band, Miles Long.The jazz-funk band has performed in several major jazz festivals, including the Playboy Jazz Festival, and has opened for Earl Klugh and the late Luther Vandross.
This September, Warner makes his Huntington Theatre debut in Guess Who's Coming to Dinner directed by David Esbjornson (All My Sons). Based on the 1967 Academy Award-winning film which starred Katharine Hepburn, Spencer Tracy, and Sidney Poitier, Warner stars as John Prentice, an African-American doctor who is brought home by his fiancée, Joanna, to meet her liberal, white parents. When John's parents also arrive for dinner, both sets of parents must confront their own unexpected reactions and concerns for their children as their beliefs are put to the test.
Warner spoke to the Banner recently about working with his co-manager mom [Pamela Warner], his role in Guess Who's Coming to Dinner, and growing up Cosby.
Your mom is your manager. Usually by this point, a lot of artists have transitioned from having their parent as their manager. How is it like working with her and is it still good for you?
Malcolm-Jamal Warner: Definitely. One of the reasons why people ultimately transition from having their parent as a manager to moving on because it gets to the point where it's no longer good. Or, it gets to the point there's only but so much the parent can do as a manager. My mother and I have worked so closely for so long. She's such an integral part of my career. We definitely got to a point where we realized we needed more than what she could do just herself. We ended up getting another manager and they do a co-management situation. We jokingly refer to my mom as the 'Chief of Staff.' There are things that she does as a personal manager, that other managers wouldn't necessarily do. She gets to focus on the day-to-day stuff. And, they get to focus on the career stuff. A lot of the business is still networking and who you know, and going to places. Neither my mom nor I have the mentality or disposition to be at functions and do all the stuff you need to do. We have a manager who is a player in the game and they can focus on that.