Hip hop artist Mystic comes back to recording studio after 13-year hiatus.
Jamilah King | 8/22/2014, 6 a.m.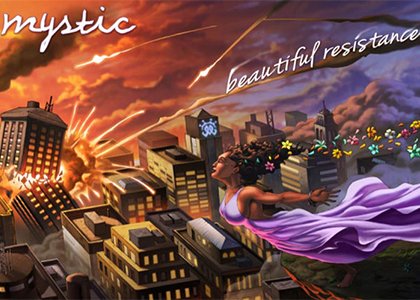 It wasn't the allure of another Grammy nomination or the possibility of teaming up with hip-hop heavyweights Kanye West and Mos Def that brought Mystic back to music. Instead, it was a professor at U.C. Berkeley, where the 39-year-old rapper is working toward finishing up a bachelor's degree in Interdisciplinary Studies. In the middle of a lecture about global poverty and the role of artists in facilitating social change, she broke down in tears and then sought advice from Professor Ananya Roy about what to do next. Roy's advice: Keep making music.
That's at least some of the story of how, 13 years after her debut solo album "Cuts for Luck and Scars for Freedom" spawned the hit "The Life" and earned her a BET award nomination for best female hip-hop artist, she's on the verge of releasing her second album "Beautiful Resistance." It's a journey that's had detours and pit stops. She met and buried her father, became committed to arts education, appeared in a few films, worked on the business side of a major label and went back to school. Each experience gave her perspective, some of which appears on the new album, which she began as a protest to George Bush's re-election in 2004. "I wasn't interested in the music business," she says of the time between albums. "I wanted to create music freely and on my own."
I spoke with Mystic by phone about the new album, which will be released digitally through W.A.R. records on August 26.
Tell me about what's been happening since "Cuts for Luck."
After "Cuts for Luck and Scars for Freedom" was released and the original distributing label folded, I went over to DreamWorks. We were going to re-release the album with new tracks on it with people like Mos Def and production from Kanye, Donelle Jones and other folks. Then DreamWorks was absorbed into Interscope, which was disheartening. I actually fought through a legal battle to get released from my contract. When I was finally released from my contract, I wasn't really interested in taking meetings with other labels that were interested. People were trying to figure out what was wrong with me, but there was nothing wrong with me [laughs]. I just wasn't interested. It had been heartbreaking watching people lose their jobs.
That was around 2003 or so, and I also decided that I really wanted to go back to school. I had dropped out of high school at the end of 11th grade, got my GED, and began working with children when I was 17. I always dreamt about opening a community arts center and elementary school in Oakland. So I entered into community college in about 2004 and fell into love with anthropology. I was still engaged with art here and there. I did stuff for a couple films, but really I was dedicated to school. I also started to record the "Beautiful Resistance" album around that time. That's how long ago this album was started, and I know that specifically because the title track was written after Bush stole his second election.