Gubernatorial candidates air views on immigration reform at Bunker Hill Community College forum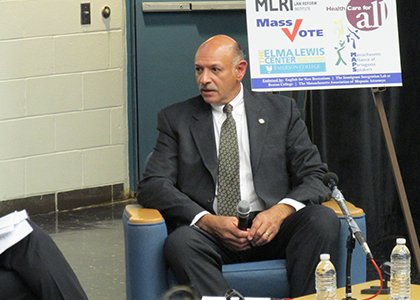 With less than four weeks left before the Democratic Primary, the candidates agreed on a majority of issues when discussing their views in the only debate focused on immigrant's rights issues in the Commonwealth.
The three Democratic, two independents and one Republican gubernatorial candidates spoke at Bunker Hill Community College in a four-question forum on immigration on Wednesday night.
When asked whether they supported the state issuing driver's licenses to illegal immigrants, all but Tea Party conservative Mark Fischer said they would.
"I testified at the State House against the bill to legalize issuing a license to an illegal immigrant," Fischer said. "There's a woman I know who lost her son in a drunk driving accident. An illegal immigrant was behind the wheel. But he also had his 6-year-old son next to him. So not only did he commit vehicular homicide, he was guilty of driving under the influence, not having a license, and reckless endangerment of his own 6-year-old child. So what good would a license do him? It would just be one less thing he'd be charged with."
Following his story, a member of the audience shouted, "no one is illegal."
Democratic candidates Don Berwick, Treasurer Steve Grossman and Attorney General Martha Coakley along with Independents Jeff McCormick and Evan Falchuk each supported the idea of allowing all drivers to be tested, insured and licensed regardless of their immigration status as a matter of public safety.
Citing a case from Fitchburg in which a man was arrested for driving without a license and was detained for five months due to his immigration status, moderator Philip Martin, the senior investigative reporter for WGBH, asked the candidates how they would handle the issue of enforcing the Secure Communities Act.
"If they are among us, they are of us," Berwick told the audience. "We have constant patterns of undercutting equality of access, especially to people of color and in immigrant communities, and these are the people who we should be helping."
Grossman, not wanting to pass up on the chance to take a swing at Coakley, who leads him in the polls, said, "when you have the opportunity to look at something called Secure Communities as I have, unlike our current Attorney General, you see that this is profoundly problematic. When more than 50 percent of the people deported have no criminal record, all it's doing is tearing families apart. A governor has to demonstrate moral leadership by speaking out against policies that are wrong."
Coakley defended her stances on the Secure Communities Act, saying that given the lack of a federal ruling on how to handle undocumented immigrants, it is up to the states to weigh in.
"The original purpose, and the way that it was adopted by former Mayor Menino and former Boston Police Commissioner Ed Davis was to allow for law enforcement to target the most dangerous people who were preying on people of their own community. We want to protect our public safety, but not at the expense of installing fear."