Congressman James Clyburn discusses biography at RCC
Nate Homan | 8/21/2014, 9:45 a.m.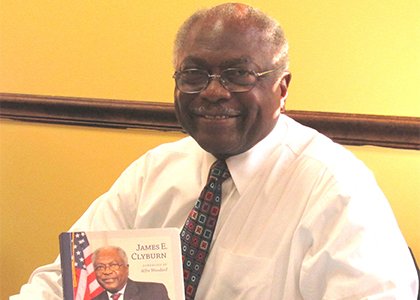 Roxbury Community College hosted an evening with civil rights champion Congressman James E. Clyburn on Thursday evening, who was promoting his autobiography, Blessed Experiences: Genuinely Southern, Proudly Black.
Born in Sumter, South Carolina on July 21, 1940, Clyburn began his career as teaching history in public schools of Charleston.
Clyburn was elected to congress in 1992. In 2002, he became the Vice Chair of the Democratic Caucus and became the House Majority Whip in 2006. He is currently the Assistant Democratic Leader, which is the third highest position in the Democratic Party.
Prior to his congressional career, he was an activist during a volatile period in the American South. He was elected president of the NAACP youth chapter at the age of 12, graduated high school at 16 and recalled staying up all night talking until 4 a.m. with Martin Luther King, Jr. when he was 19. Clyburn's book title, Blessed Experiences, fits the tumultuous path he walked. He happened upon a blessing in disguise in the midst of grim circumstances when he met his wife, Emily, in a jail cell during one of his arrests for civil disobedience.
"Jail works pretty good for some people," he chuckled. "Worked fine for us. We just celebrated our 53rd anniversary. But I'm not advising anyone to go to any jail looking for a spouse."
A younger life of fervent civil rights activism paved the way to a life of political aspiration. His policy-oriented passion on civil rights issues resonate with current events, including the ongoing tensions, protests, and violent clashes between police and protesters in Ferguson, Mo.
"People cannot sit on their laurels because, as we have noticed over the last 72 hours, we are about to relive some things that we thought were behind us," Clyburn said.
"There are forces that would like to turn the clock back. When you build a narrative for centuries that certain people are not equipped to run things, to make laws and to run the country and then you wake up one morning and there is a person of color running the country, your job is to change that very narrative which you have been living and breathing for all those years. People often shy away from it. But there's a blessing of being over the age of 70 where you say what you darn well please and you don't give a hoot. I've reached that point."
Clyburn named his book after an instance where he was in the governor's office. John West was a progressive Governor who pushed progressive legislation in 1970. There were legislators who were less than thrilled with these policies.
He sat in on committee meetings monitoring legislators' reactions to the governor's proposals. In one meeting, a legislator had gone beyond the bounds of decency. When Clyburn called him out on it, he said, "well Clyburn, you have to understand that I'm a southerner."
"I didn't think being a southerner gave you license to be insulting. Nor did I believe that you could say things that were unbecoming of an office that you held."