Sworn in as MCAD commissioner, Charlotte Golar Richie begins new chapter in public service career
Yawu Miller | 8/20/2014, 12:03 p.m.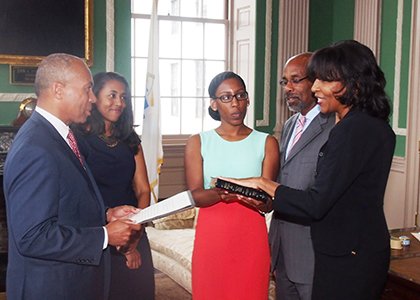 Charlotte Golar Richie planned to have an intimate swearing-in ceremony, with just her husband, her two daughters and six close friends. But word travels fast on Beacon Hill, and faster still among blacks in state government, many of whom have at one time or another worked with or for Golar Richie.
"You invited nine and 900 showed up," quipped Gov. Deval Patrick, as he maneuvered Richie and her family members around the packed office to swear her in as a commissioner at the Massachusetts Commission Against Discrimination.
Lining the walls of Patrick's office were legislators, including Byron Rushing, Liz Malia and Linda Dorcena Forry, former city councilor and current chief of Health and Human Services Felix G. Arroyo, and about two dozen former staffers from her various incarnations in government — legislative aides, staff from the Department of Neighborhood Development and as Patrick's senior advisor for federal, state and community affairs.
Outside the governor's elegantly-renovated but space-challenged office, dozens more supporters waited to congratulate Richie on her appointment, mobbing the lobby.
The depth of support came as no surprise to Golar Richie's friends.
"First and foremost, Charlotte is a genuine person," said Ron Marlow, who served as assistant secretary for Access and Opportunity at the Executive Office for Administration and Finance in the Patrick administration. "She's always shown care and respect for her people — people she's represented, people she's worked with and people who look like her and feel affinity for her. She's earned a tremendous amount of respect from people who like her and political opponents."
In her new role as one of the MCAD's four commissioners, Richie hears and renders decisions on discrimination cases in employment, housing, lending, public accommodation and other areas. The caseload can be heavy.
"On most days the lobby is full when you walk in in the morning," says Golar Richie, who has been sitting in on hearings for the last month. "The caseload is an indication that discrimination is still a problem in the Commonwealth. It's different than it was 50 years ago, but it's still about human dignity and how people are treated."
Gone are the days when the overwhelming majority of complainants at the MCAD were African American. Now, with discrimination based on gender, age, physical disability, sexual orientation and other areas, the cases have become more complex and numerous, with an average of 3,000 filed a year.
"Discrimination is more subtle in some ways," Richie says. "You can never tell exactly whether there's malicious intent. A lot of discrimination is the result of people not knowing the law — a person putting an ad in a newspaper saying they want to rent to single professionals. A lot of people don't know what the law is."
Golar Richie's stint at the MCAD is the latest chapter in a career of public service that goes back to 1995, when her neighbors in the Meetinghouse section of Dorchester prevailed upon her to run for state representative in the 5th Suffolk District. She won handily, defeating one-term Rep. Althea Garrison.