Low-wage Logan workers meet with elected officials, press case for union membership, fair pay
Nate Homan | 8/13/2014, 3:10 p.m.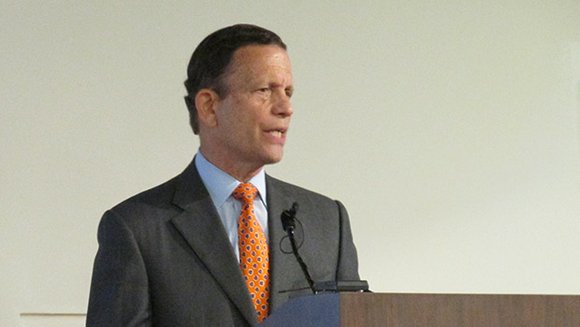 Gubernatorial candidates Attorney General Martha Coakley and Treasurer Steve Grossman joined local politicians in supporting and listening to the grievances of the low wage-earning, non-union workers at Logan Airport at the SEIU 32BJ Local 615 headquarters in downtown Boston last week.
Baggage handlers, wheelchair assistants, terminal custodians, aircraft cabin custodians, ticket checkers and other employees have demanded better wages, healthcare, paid sick days and a union contract with their employers for months now. These employees earn less than $10 an hour in what they claim are unsafe and unhygienic conditions.
"There's hundreds of workers at Logan Airport who are struggling to escape the cycle of poverty by working for $8 or $9 an hour with no benefits," SEIU 32BJ Director Roxana Rivera said.
"We are here to say that we are going to join them in their fight for dignity. Even after months of employees demanding action from their employers, we find ourselves at a crossroads. We are joining their fight to form a union. If we don't act, they will continue to be stuck in a system that condemns them to a life of poverty."
Airline companies have hired private contractors, engaging in what the activists say is a race to the bottom for their employees while they cut costs at the expense of worker's health and safety. Cabin cleaners have reported exposure to hazardous cleaning chemicals and bodily fluids without proper protective gear or adequate training. Baggage handlers regularly report injuries to their shoulders and backs, but are not allowed to take sick days.
ReadyJet, one of the largest employers of airport workers nation wide, was cited by OSHA in 2014 for two health and safety violations at Logan Airport and was fined $2,000. OSHA issued ReadyJet citations in 2012 for five health and safety violations in Orlando International Airport as well. Coakley's office ordered ReadyJet to pay employees a total of $13,045 restitution plus a $5,000 civil penalty for unpaid overtime, straight time, training hours, vacations and failure to provide breaks for workers working 10-hour shifts.
Grossman spoke first, pumping up the crowd by chanting, "we will win," "stand together," and "si se puede." He praised the workers who provide the most basic services, saying, "without these men and women, Logan Airport would shut down."
The Treasurer issued harsh words, drawing a line in the sand against public officials who hadn't joined in the fight.
"Every public official who isn't standing with us today is standing on the other side. There are not three sides to this issue; there are two: You're either with the workers or you're not with the workers."
In this coming November, voters will have a chance to vote on Question Four which asks for earned five days sick time for workers.
Grossman said the Machinist Union Local 1726 in East Boston have been negotiating with the airlines because the workers he met with are making less money today than they were in 1999. Local 1726 sent representatives to Thursday's meeting to show their solidarity with the maintenance workers in pushing for better working conditions.