The Mayor's Office of Arts + Culture presents The Funk Summit Dance Party: Cultures of Soul and Soulelujah! on City Hall Plaza with DJs Deano and Ty Jesso
The Mayor's Office of Arts + Culture brings the Funk Summit Dance Party to City Hall Plaza tonight, August 8th from 6 p.m. to 10 p.m. in partnership with the Together Festival (http://togetherboston.com). The all-ages event is free and open to the public.
The Funk Summit Dance Party will feature the sounds of the 60s from soul and funk to R&B, with music from the "Godfather of Soul" James Brown and Motown artists, Stevie Wonder and The Jackson 5. The dance party will also feature globe-trotting, internationally known DJs Deano and Ty Jesso.
Known for his weekly, Soul/RnB dance party "Soulelujah!" legendary club nights in Baltimore, Miami, New York City and London, DJ Ty Jesso has been spinning old school soul, R&B, funk, oldies and boogaloo nationally and internationally since the 1980s. The Improper Bostonian recently named Soulelujah!, (held at Zuzu at the Middle East Club in Cambridge), Boston's best dance night for 2014.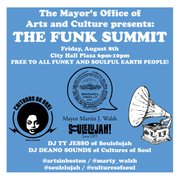 A recurring guest DJ at Soulelujah!, DJ Deano has been collecting vintage records for over a decade. In 2008, he started DJing for Viva Radio and created the Cultures of Soul Radio Show, which features eclectic vintage music from across the globe. In addition to traveling the globe, DJ Deano runs his own record label Cultures of Soul Records which has released rare but danceable vintage records.
The Funk Summit Dance Party will also offer free dance lessons, and food trucks and vendors will be available on City Hall Plaza.
City Hall Plaza is accessible by MBTA via State Street (Orange and Blue lines) and Park Street (Green and Red lines). For additional information, call 617-635-3245 or visit http://www.cityofboston.gov/arts.