Taraji P. Henson swings big with 'From the Rough'
Kam Williams | 4/30/2014, 11:46 a.m.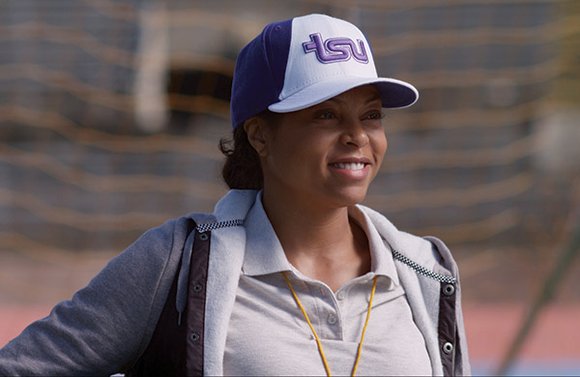 Taraji P. Henson earned an Academy Award nomination for Best Supporting Actress opposite Brad Pitt in David Fincher's "The Curious Case of Benjamin Button." She is a 2011 Emmy-nominee for Best Actress in a Movie or Miniseries for Lifetime's "Taken from Me." Henson also starred as Detective Joss Carter in the highly-rated CBS crime drama "Person of Interest." She was a series regular on "Boston Legal" and enjoyed a recurring role on "Eli Stone."
On the big screen, she starred in the #1 box office hit "Think Like a Man," as well as in its upcoming sequel, "Think Like A Man, Too." And in September, she'll be starring opposite Idris Elba in "No Good Deed."
Taraji's additional credits include "Larry Crowne," "The Karate Kid," "Date Night," "I Can Do Bad All By Myself," Peep World," "The Good Doctor," "Something New," "Not Easily Broken," "Hurricane Season," "The Family that Preys," "Smokin' Aces" and "Once Fallen." In addition, she received rave reviews for her work in "Talk to Me" and "Hustle & Flow," making her singing debut performing the Academy Award-winning song "It's Hard out Here for a Pimp" on the Oscar telecast.
Henson is well remembered for her role as Yvette opposite Tyrese in "Baby Boy," and collaborated with director John Singleton a third time on "Four Brothers." Plus, she was featured in Jamie Foxx's music video "Just like Me" and also appeared in Estelle's "Pretty Please."
Born and raised in Washington, D.C., the Howard University graduate resides in Los Angeles with her son, Marcel. She dedicates much of her spare time to helping disabled and less fortunate children.
Here, she talks about her new film, "From the Rough," an inspirational biopic where she portrays Catana Starks, the African-American trailblazer who became the first female to coach an NCAA Division-1 men's team when she accepted the reins of the golf squad at Tennessee State.
What interested you in this film?
Well, first of all, I'd never seen a movie about a female coach before, outside of that Goldie Hawn comedy from years ago, "Wildcats." And I had certainly never seen an African-American woman portrayed this way in a drama. That was the first thing that interested me. Then, when I read the script, I went, "Wow! What an amazing story!" She had all the odds stacked against her, yet she and her team won. And it was all because of the tenacity and belief and passion that she instilled in her players.
I had never heard of Catana Starks before seeing this film. Why do you think she's so unheralded?
Honestly, I don't know. Maybe, because she didn't coach at an Ivy League or big name school, but at an historically black university. That's another reason why I did the film. I felt the world needed to know about this woman, which is what we're trying to do now.
Are you an athletic person? In other words, what are the similarities and differences between you and Catana Starks?
I'm not really an athlete, though I'm quite capable of playing one on TV or film. I've been to the driving range, and I do have good hand-eye coordination, but that's about it. I'm not going to try to play basketball.