Simmons College conference focuses on building women's leadership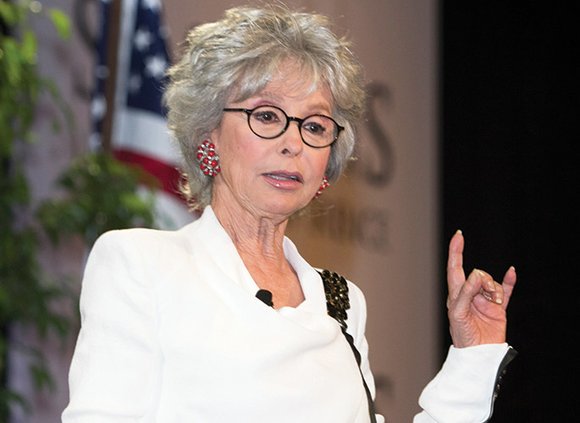 Approximately 3,500 business and professional women turned out for Simmons College's 35th annual leadership conference to hear an impressive array of speakers, including former Secretary of State Hillary Rodham Clinton.
The theme of the conference, held at the at the Seaport World Trade Center, was "jumping the curve," a term traced back to Irish philosopher and management futurist Charles Handy, who used the term to describe how companies need to continually reinvent themselves during times of prosperity to continue to be successful.
The message of recreating oneself during good times was further detailed in the various sessions from such dynamic speakers as entrepreneur Zainab Salbi, actress Rita Moreno, former astronaut Dr. Mae Jemison in addition to Clinton. Their messages of being your authentic self, realizing that it's okay to be vulnerable, and taking risks even if it means failure, was woven throughout their talks.
The opening keynote was delivered by Denise Morrison, the first woman to be named president and CEO of the Campbell Soup Company and who is among just 22 women to lead a Fortune 500 company, spoke on the topic of "Fostering Innovation."
Zainab Salbi, founder and former CEO of the organization Women for Women International, led a workshop, "Signature Dialogue: The Other Side of War," in which she discussed how she initially wanted to help these "other women" in such countries as Bosnia, Afghanistan, Rwanda and Syria to tell their stories because she believed she didn't have her own story to tell.
However, after speaking to women such as a 52-year-old woman in Africa and hearing about her account of being raped, tortured, having her home destroyed, and being left for homeless, Salbi embarked on her own journey of self-discovery. She said she wept for hours after hearing this woman's story, and realized that she "had been the prison guard of her own fears," and began to open up and share her vulnerability with these "other women." After this, she said, she began to see the possibility of change.
The message of empowerment and hope continued with the afternoon keynote delivered by Rita Moreno. The legendary actress, who is only a handful of actors in Hollywood to win an Emmy, Grammy, Oscar and Tony, talked about her childhood in Puerto Rico, coming to the United States with her mother in 1936, and how her mother sacrificed for Rita's dream of acting by working as a sweatshop seamstress.
At the age of 16, Moreno was signed to a seven-year contract with MGM where she played "dusky maidens." Even though she was dropped by MGM halfway through her contract, one of the things that kept her believing in her dream was that "hope is an essential part of my DNA."
The stunning eighty-two-year-old gave a heartfelt and funny performance about her successes and struggles in Hollywood, from her breakout role as "Anita" in "West Side Story" to taking a risk and joining the cast of the children's television show "Electric Company" — where she was joined by Bill Cosby, Irene Cara and Morgan Freeman — to just completing a pilot written and produced by Amy Poehler.