Forgiveness, redemption drive "The Railway Man"
The Banner recently spoke with the real Patti Lomax and Andy Paterson, the screenwriter and producer of "The Railway Man"
4/24/2014, 6 a.m. | Updated on 4/23/2014, 12:41 p.m.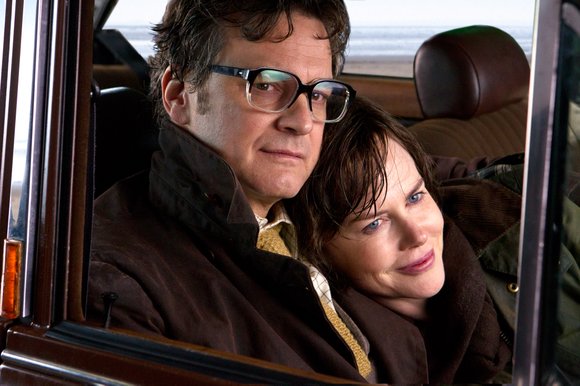 What does it mean to truly love? Can love really heal the pain? What does it mean to forgive? Can you overcome the demons of your past? How does one find inner peace?
These are the questions at the center of the incredible movie "The Railway Man," based on the 1995 bestselling autobiography of the same name. "The Railway Man" is the extraordinary true story of Eric Lomax, a British Army officer who is tormented as a prisoner of war at a Japanese labor camp during World War II, survives, is rescued, but is haunted by his past. During Lomax's imprisonment, he was one of several thousands of soldiers forced to work the notorious Burma Railway also known as the "Death Railway" — a 258 mile stretch of jungle between Bangkok, Thailand, and Rangoon, Burma — built by the Japanese Empire in 1943, to support its forces in the Burma campaign of World War II. Decades later, Lomax and his remarkable and loyal wife, Patti, discovered that the Japanese interpreter responsible for much of his treatment was still alive and set out to confront him.
The film, which was shot in Scotland, Australia and Thailand with major sequences filmed on the actual "Death Railway," stars Colin Firth as Eric Lomas; Nicole Kidman as Patti; Stellan Skarsgård as Lomas' commander and friend, Finlay; Jeremy Irvine as the young Eric; and Hiroyuki Sanada as Takashi Nagase, the Japanese Imperial Army officer who presided over Lomax's interrogation and brutal torture.
The Banner recently spoke with the real Patti Lomax and Andy Paterson, the screenwriter and producer of "The Railway Man," at a round-table interview to promote the opening of the film in Boston.
What made Eric so different in how he dealt with his experience in Thailand and Burma?
Patti Lomax: In Britain anyway, his generation was taught more of the classics and history, our culture, than nowadays. I don't know how it is here in America. And, of course there was no end to that for his generation at all. As far as surviving is concerned, his mother's family is from Shetland. And in the last century they had some hard times. Perhaps, there is a great streak of stubbornness there which probably stood him in good stead.
How did you support Eric in dealing with all the memories, pain and anger?
Patti Lomax: This is Eric's story. I did have some influence. It's a love story, I think, when we really look at it. I believe perhaps if one has support — I'm sorry if it sounds trite — that deep support, then perhaps it gives somebody enough strength to go forward, and try to find an answer, whatever it is and, in his case, to receive help from the Medical Foundation for the Care of Victims of Torture, which is a charity in London. [The Medical Foundation was set up in 1985 by a nurse who helped Holocaust survivors in the aftermath of World War II.] It took a period of two years for him to tell his story. It was a healing process in a sense. It wasn't just my input. It was other people, too.