Simmons College professor Afaa Michael Weaver wins prestigious poetry award
$100,000 Kingsley Tufts Poetry Award
Martin Desmarais | 4/23/2014, 10:52 a.m. | Updated on 4/23/2014, 10:52 a.m.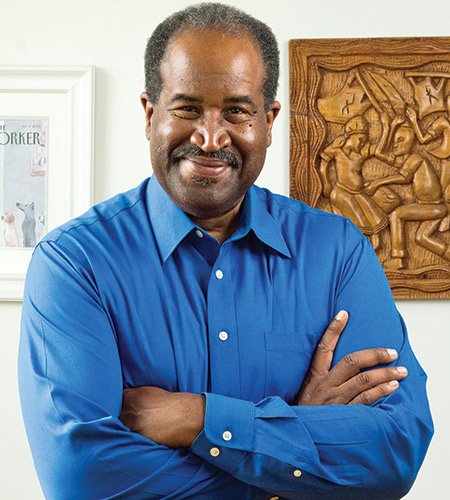 Some might be surprised that the most recent winner of the prestigious $100,000 Kingsley Tufts Poetry Award, the 62-year-old Afaa Michael Weaver, grew up in one of the most notoriously dangerous neighborhoods in America — the Baltimore 'hood immortalized in HBO's acclaimed "The Wire." However, for current Simmons College professor and Somerville resident Weaver, poetry was just always part of who he was.
"Poetry has been my vehicle for self-realization. It has been a way to sort of bring myself to fruition," Weaver said in a recent chat with the Banner. "I figured out early on I was a poet and I went about the business of developing that way … I have always seen myself at the core as a poet and I just kept at it.
"I always loved books and reading and writing ­— it was really necessary for me to have an inner life and by that I mean a reflective life," he added. "I have always been a somewhat unique person. I was a very smart kid in a tough environment. There were other smart kids there as well, but not all of us made it."
Weaver credits his parents for helping him access the best schools available in the public education system and for backing his passions, despite them not being typical pursuits for a young black man in his neighborhood. "It meant being able to hold on to, protect and have some artistic talent despite it not being celebrated," he said.
Weaver's pursuits took him to the University of Maryland, College Park, in 1968 as a 16-year-old, but he left college after two years to take on a job in a Baltimore factory. He would spend the next 15 years working in a factory, but also writing poetry and working as a freelance journalist for several Baltimore papers.
His writing work eventually earned him a National Endowment for the Arts grant, which allowed him to leave the factory in 1985, finish his bachelor's degree and also complete a master's degree in creative writing from Brown University in 1987.
He has published a dozen poetry books, and also written award-winning plays and short stories.
His immersion into the writing world additionally allowed him to enter into the world of academia. After Brown, Weaver worked as an adjunct professor at Essex County College in Newark, N.J., and at New York University and the City University of New York. He moved on to Rutgers University in Camden and received tenure at the school in 1995.
In the spring of 1997, he served as a poet in residence at the Stadler Center for poetry at Bucknell University in Lewisburg, Pa., and then moved on to be a visiting professor in the English department at Simmons. In 1998, he accepted an endowed chair position at Simmons as professor of English, a position he still holds.
Weaver also is a long-time Tai Chai enthusiast, as well as Chinese scholar. In 2002, he was a Fulbright scholar at the National Taiwan University in Taipei and Taipei National University of the Arts in Kuandu, while on sabbatical from Simmons. He has brought Chinese poets to the United States on many occasions and also translates their work into English.