Immigrant activists arrested in Boston protesting U.S. deportations
Activists blockied the Suffolk County House of Correction in Boston
Martin Desmarais | 4/23/2014, 11:20 a.m. | Updated on 4/23/2014, 11:20 a.m.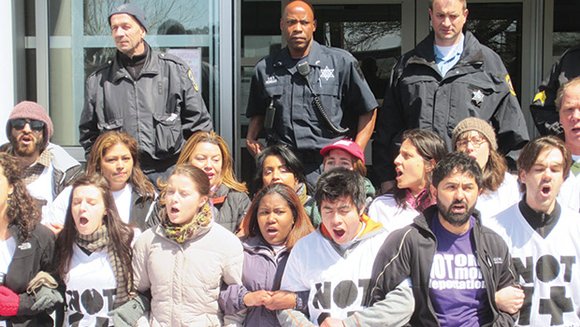 Immigration activists blocking the Suffolk County House of Correction were arrested last week as a part of a national protest of the Obama administration's immigration policies, which have resulted in the deportation of 2 million undocumented immigrants.
Protesters here and across the U.S. are calling for the president to use his administrative powers to halt the deportations.
Local groups, including the Massachusetts Immigrant and Refugee Advocacy Organization, Jobs with Justice! and the Chelsea Collaborative joined the National Day Laborer Organizing Network's Not One More anti-deportation campaign that has seen protests and rallies in as many as 80 U.S. cities in the last several months, with about half of those coming in April as the tide rises against congressional inaction on immigration reform.
Immigration advocates are specifically targeting the Secure Communities program, a federal enforcement policy that is credited for driving the Obama administration's record number of deportations because it allows U.S. Immigration and Customs Enforcement officials to access local and state law enforcement data to identify undocumented immigrants, detain them and deport them.
The Secure Communities program has given rise to claims that undocumented immigrants are frequently deported after minor offenses, such as traffic violations. According to statistics provided by the National Day Laborer Organizing Network following the Boston protest and arrests, 68 percent of the people deported in Massachusetts through the Secure Communities program had no criminal convictions or were only accused of minor offenses, including traffic violations.
Local immigration reform advocates are holding out hope that Massachusetts can join New England neighbor Connecticut and pass the Trust Act, which restricts ICE from accessing law enforcement data. Massachusetts lawmakers have such a bill, the Massachusetts Trust Act, in front of them. California has also passed a version of the Trust Act.
On April 17, the Suffolk County House of Corrections drew about 150 protesters from around New England. There was a large contingent of Connecticut protesters fueled by their recent success in persuading their state's lawmakers to pass the Trust Act.
The Boston detention center has faced demonstrations before — including a hunger strike last October — and holds several hundred immigrants slated for deportation. The facility has been criticized for holding immigrant detainees alongside other incarcerated prisoners and faces several current lawsuits citing indefinite detention and poor conditions.
While demonstrators held up signs reading "No More Deportations," "Stop Secure Communities," and "Keep Families Together" and chanted or sang slogans such as "Liberation not Deportation" and "Not One More," 19 protesters knelt to block the doors to Suffolk County House of Corrections.
Linked arm-in-arm, the protesters were warned three times over the course of an hour by police to move from blocking the prison doors before being handcuffed and removed by police outfitted in riot gear. The protest and the 19 arrests were carried out non-violently and those arrested were charged with disorderly conduct and trespassing and released later that day.
Chelsea Collaborative Executive Director Gladys Vega, who moved to Boston from Puerto Rico when she was a child, was one of the local immigration advocates arrested. Vega spoke as the protesters rallied prior to marching on the prison front doors and she was also very vocal as she knelt on the ground in front of the doors prior to her arrest.