Rev. Eugene Rivers courts controversy, stays in media spotlight
Yawu Miller | 4/16/2014, 11:10 a.m.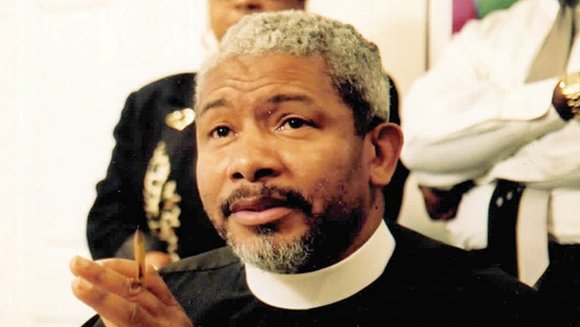 Fifteen years ago, the Rev. Eugene Rivers was at the height of his influence with his face on the cover of Newsweek magazine, his frequent critiques of Boston's black political and religious readers appearing frequently in the pages of the Boston Globe, Boston Magazine and the Boston Herald.
At the peak of his powers, Rivers raked in hundreds of thousands of dollars in charitable contributions for his nonprofit Ella J. Baker House, controlled a formidable block of summer jobs for the city's youth and enjoyed a steady flow of state and federal dollars for his anti-crime initiatives.
For many, it may be hard to square the '90s version of Gene Rivers with the contemporary minister, now taking a drubbing for his apparent bid to shake down a state contractor, Keolis North America, for $105,000. In the '90s, Rivers was tapped into the corridors of power in influence. Compared to the high-rolling Rivers of the last decade, today's version appears as if he's fishing for loose coins under couch cushions.
His bizarre self-description as a "secret ops" player capable of making life difficult for Keolis officials, who scored a $2.6 billion contract to run the MBTA's commuter rail service reads like a desperate play for chump change.
That Rivers was able to become the most visible minister in the city in the 1990s, despite having a congregation numbering in the single digits, is a testament to both his quick wit and street smarts and the city's white mainstream media's thirst for controversy.
Rivers' meteoric rise to prominence began in 1994 with an attack on Nation of Islam Minister Louis Farrakhan, whom Rivers denounced for allegedly playing a role in the 1965 assassination of Malcolm X. The Boston media ran with the story. Months later, Rivers followed up with allegations in the press that local Nation of Islam Minister Don Muhammad, a former friend, threatened him.
It was at that time that the spigots of charitable giving in Boston opened up for Rivers. In 1996, Rivers told reporters from the Banner and Globe that he had secured more than $200,000 in funds from local Jewish organizations for the redevelopment of a Dorchester building he established as the Ella J. Baker House, a community center for troubled youths.
While Rivers served as executive director of the Baker House, funding was never an issue. Between 2000 and 2004, Rivers' take in federal and state funds was reportedly $4 million, according to Boston Magazine.
Banking on a close relationship with the administration of then-mayor Thomas Menino, Rivers bragged to the Banner that he controlled more youth summer jobs than any black elected officials in Boston.
Although Rivers had negligible support in Boston's black community — even in the Four Corners neighborhood where he lived and worked — he maintained a close relationship with the city's mainstream media. Reporters and editors consistently gave air to his frequent attacks on black elected officials and black leadership in the business and nonprofit sectors, securing him space on the front pages.