Evandro Carvalho wins Boston 5th Suffolk by wide margin
Yawu Miller | 4/9/2014, 11:08 a.m.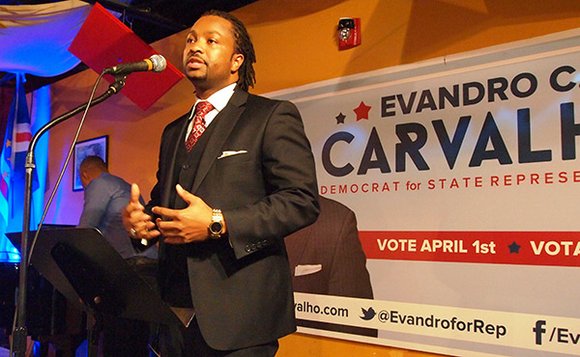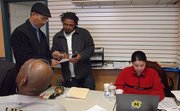 Political neophyte Evandro Carvalho cleared the field in the five-person Democratic primary special election for the 5th Suffolk District seat formerly occupied by Carlos Henriquez, securing 49 percent of the 1,957 ballots cast.
Carvalho, a 32-year-old attorney who was born in Cape Verde, drew heavily on support from the district's Cape Verdean community, holding a more-than 400-vote lead over the next-highest vote-getter, Karen Charles Peterson. With no Republican on the ballot, he will most likely run unopposed in the April 29 general election.
Political activist Barry Lawton came in third with 190 votes, Jennifer Johnson followed with 151 and Roy Owens netted 89 votes.
Excitement began building in the Carvalho campaign offices, next to Restaurante Cesaria on Bowdoin Street, as the campaign's tallies from polling places began coming in at 8 p.m. Tuesday of last week.
As campaign operative Linda Monteiro entered the figures showing a commanding lead into a laptop computer, campaign field director Joao DePina shouted "We won!"
While Carvalho is not the first Cape Verdean elected to the State House (he's the fourth, coming after former reps Robert Fortes, D-Mattapan, Shirley Gomes, R-Harwich, and current Rep. Vinny deMacedo, R-Plymouth) Carvalho is the first elected from Boston's sizable Cape Verdean electorate, which is geographically centered in the 5th Suffolk District.
Former mayoral candidate John Barros, who is now the city's chief economic development officer, said Carvalho's victory has special significance for the recent wave of Cape Verdean immigrants who arrived in Boston in the '80s and '90s.
"It's taken a generation to get to the point where a Cape Verdean could be elected to office," he said. "But this is not just a victory for the Cape Verdean community. It's a victory for every young person in our community who's aiming to be something, do something and give back to the community. That's what Evandro stands for."
Barros and other Carvalho supporters stressed that his voters came from the black and white communities in the district, as well as the Cape Verdean community. Carvalho's campaign manager, Hodari Cail, is African American, as are many of his supporters. But the atmosphere in Cesaria, the neighborhood's largest Cape Verdean restaurant, was decidedly criolo on Tuesday night.
"Viva Cabo Verde!" his supporters shouted as he took to the stage at the restaurant with Cape Verdean funaná playing on the loudspeakers.
Carvalho attributed his win to the hard work of his campaign volunteers and the appeal of his life story. Carvalho arrived in the United States at age 15 and graduated from Madison Park High School, UMass Amherst and Howard University School of Law.
"I was surprised, but people connected with my story," Carvalho said Tuesday evening after the official results came in from City Hall. "It's really humbling to be in the position I'm in. People helped me out so much. Now the work is beginning."
Organizers on Carvalho's campaign said their campaign's ground game won in the end. Campaign organizers said they focused on identifying voters through phone banks and door-knocking in the weeks leading up to the election. Carvalho's ubiquitous signs and the campaign literature volunteers dropped at voters' doors was also helpful, according to volunteer Adelia Rocha.