Entrepreneurs set to launch Dorchester business lab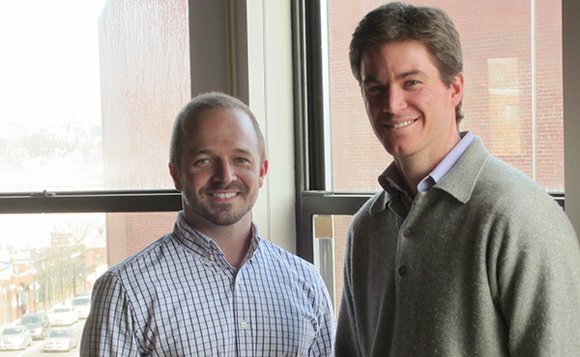 Set to open later this month and modeled after business lab concepts very common in the high tech startup world in Silicon Valley and Cambridge, the Fields Corner Business Lab contains about a dozen small private offices, several conference rooms, private work stations and flexible work areas, as well as office amenities including a printer/copier room, reception area and a kitchen. The lab takes up the entire top floor of the historic Lenane Building in the heart of Fields Corner and has 8,000 square feet of office space available.
As founders Travis Lee and John Maudlin emphasize, the advantage of a business lab is that small businesses and startups are able to have an office space out of the home with access to all the necessary office amenities, but without having to rent or lease an entire office space to do so — which offers a drastic reduction in business costs.
The Fields Corner Business Lab is listing private offices starting at $450 a month, dedicated workstations at $300 a month and flexible workspace at $100 a month.
"We want to create a place here where you don't have to work from home or work in a coffee shop, but you don't have to spend a lot of money to get the wireless, the coffee and the environment to do work and on top of that you are going to get to be working next to people that are doing creative things," Lee said. "For $100 a month, you have eight square feet of space, super high-speed wireless Internet, free coffee and free copying and printing and three conference spaces — for $100 a month."
Though the lab borrows it's concept from the small business incubator model common in the high-tech industry, Lee said it is not just for tech startups. In fact, Lee says the lab will most often be used by small nonprofits and small businesses that serve Dorchester.
"Low cost may be one of the greatest values we can offer to our Dorchester-based businesses, it is not the only thing, but it may be one of the most important things so we have done everything we can to keep prices at a point that are far below, far below, almost any of those other competitors around — so that we can get people in the door that can't get in those doors. That is the differentiation I think for most," Lee said. "This is the first product of this kind in Dorchester, Roxbury and Mattapan."
According to Lee and Maudlin, some of the entrepreneurs who have expressed interest in the business lab space include a real estate agent, a nonprofit organization that works with children, a financial services consultant and an attorney.
They say they expect most of the interest will be from Dorchester residents, but they also expect to have some interest from entrepreneurs planning to provide services to people in Dorchester.
Both Lee and Maudlin are confident that the lab will fill up quickly. Six of the private offices are already set to be filled with several others asking them to hold the space for them.