Love takes flight in David E. Talbert's 'Baggage Claim'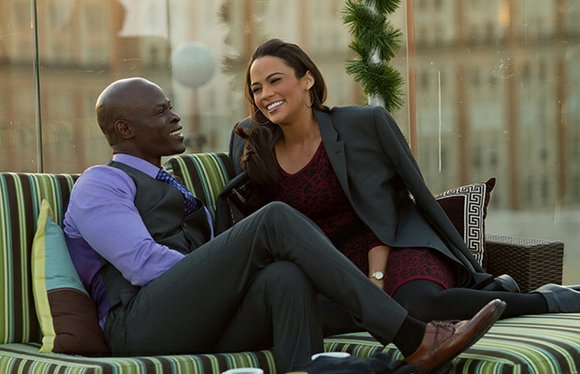 It's all about love – searching for love, finding love and being in love in David E. Talbert's Fox Searchlight romantic comedy Baggage Claim, based on his 2003 book of the same name. The lighthearted romantic comedy stars Paula Patton (2 Guns, Mission: Impossible — Ghost Protocol and Jumping the Broom) as flight attendant Montana Moore, determined to find Mr. Right and get engaged before her younger sister Sheree (Lauren London) walks down the aisle in 30 days. Moore uses her airline connections to "accidentally" meet up with eligible ex-boyfriends and potential suitors. Montana racks up more than 30,000 miles flying all around the country searching for the perfect guy.
Aiding Montana in her search (and providing comic relief) are fellow flight attendants Sam, played by Adam Brody (Lovelace and Mr. & Mrs. Smith), and Gail, played by three-time Grammy Award-winning singer-songwriter, Jill Scott.
Talbert met Patton in 2008, after shooting his first feature film First Sunday (which starred Ice Cube, Tracy Morgan and Katt Williams). Talbert says, "She was so bubbly and light." He knew she was Montana Moore even back then. Talbert also says that Montana Moore is his favorite character he's ever created and that "Paula is a mix of Reese Witherspoon, Jennifer Aniston and Julia Roberts all mixed up into one."
Talbert says "I'm in love with a beautiful woman for 15 years. I don't write from it being a fantasy. Fortunately, I write from it being a reality." His wife Lyn Sison-Talbert is also an executive producer on the film and has a small role opposite Boris Kodjoe.
The writer, producer and director began his career in the world of theater. In fact, the Los Angeles Times has labeled Talbert "one of the most prolific theatre makers in America."
Talbert has written and directed 14 nationally acclaimed touring productions that have garnered 24 NAACP Image Award nominations, winning Best Playwright of the Year for The Fabric of a Man. In 2007, Talbert received the New York Literary Award for Best Playwright of the Year for Love in the Nick of Tyme. Most recently, he received the prestigious NAACP Trailblazer Award for his groundbreaking accomplishments in theater.
Over the years, Patton, who "loves, loves romantic comedies," kept checking in with Talbert to see if there was any progress in getting the film made. She says, "I read the screenplay when I was making the film Just Wright with Queen Latifah. I laughed out loud and I hadn't read the book yet." Finally, they received word in 2010 that the screenplay was coming to the big screen. Patton says, "This has been a dream come true, a labor of love and a complete passion project for both of us."
Baggage Claim boasts a talented ensemble cast, including: Derek Luke, Taye Diggs, Boris Kodjoe, Trey Songz, Jenifer Lewis, Affion Crockett, Christina Milian and Djimon Honsou. Of the cast, Talbert says, "Every beautiful person in Hollywood is in this movie."
Derek Luke, who stars as William Wright, Montana's best friend, neighbor and confidant, says when he read the role of William, he "just kind of connected." He adds, "I related to William because every day as an actor you get to meet people. You get to meet men. Men have become my platform and I get to talk to men on every level, from every hood from every suburb. … With just men of color I always want to sow a good seed on film. It has nothing to do with being typecast. It's just the image of black men. So many people have given me a chance to roll and I feel like in that chance I want to aspire. My mom groomed me as William so I had to play him."