Courtney Vance rides theater skill to Hollywood
Brian Wright O'Connor | 9/25/2013, 11:50 a.m.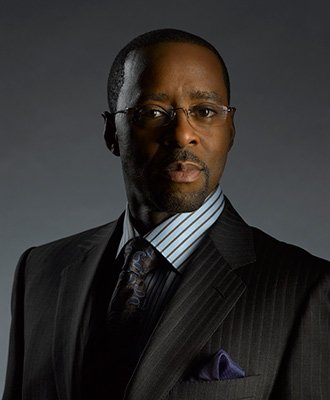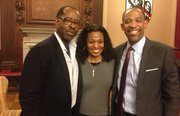 Courtney Bernard Vance, widely known as dapper District Attorney Ron Carver from television's Law and Order returned to his alma mater on Sept. 18 to talk about his journey "From Harvard to Hollywood."
But coming off an award-winning Broadway run, the 1982 Harvard University grad largely skipped over the small- and silver-screen phases of his career to focus on his greatest love — the roar of the lights and the smell of the crowd — and its lessons for us all.
In an introspective, 75-minute jazz-inflected riff on the wonders of the stage, Vance invoked basketball verities, celebrity encounters and thespian training to weave the message that the theater prepares you for the unexpected and plumbs depths of character rarely accessible to those who never dare.
Vance's appearance kicked off the Perini-Woods Memorial Speaker Series at Winthrop House, an undergraduate residence hall. The dorm's co-masters, Harvard Law professors Ron Sullivan and Stephanie Robinson, provided a wing-back chair for the injured thespian, clad in a dark blazer, open-collared shirt and black Nike warm-ups.
"The foundational training prepares you to do what jazz musicians do," said Vance, who arrived limping after surgery for a torn meniscus, aggravated during the long run of Lucky Guy, in which he played "Hap" Hairston alongside Tom Hanks. "They use their training to speak the same language of rhythm and notes that's obscure to the rest of us."
To illustrate his point, the 2013 Tony Award winner sounded a basso-profundo note, followed by a tenor measure — a musical monologue that filled the wood-paneled Junior Common Room with the fading light of late summer coming in from the tall windows overlooking the Charles River.
"On the stage, just like a musician in a live performance, you have to be able to close your eyes and just go — trusting in the play, the actors and the audience. At times, you've got to make it up as you go. Just like life," said the 53-year-old Detroit native.
Showing up at Harvard as a three-sport all-star jock more interested in track than theater, Vance found during his freshman year that he wasn't expanding his mind or making new friends by running fast and turning left for hours every day. Meanwhile, his classmates seemed more sure-footed in what they wanted out of an education.
"I didn't know what I wanted to do when I came here, but everyone else did. I remember going home and my mother and father said to me, 'You don't seem yourself. What's wrong?' I told them I was thinking of taking some time off. You can imagine how that went over."
Vance's mother, a librarian, and his father, a grocery store manager, hadn't sacrificed to send him to the private Detroit Country Day School so he could become an Ivy League drop-out. He stuck it out. "It was time to let competitive athletics go. The coach wasn't happy. I came back my sophomore year and I started doing plays. And every time I did a play I met new people. My aunt, who lived in Boston, came to see me in a play and said, 'You should be an actor.'"