Houston native Brandon J. Dirden tackles the role of Martin Luther King Jr. in 'All the Way'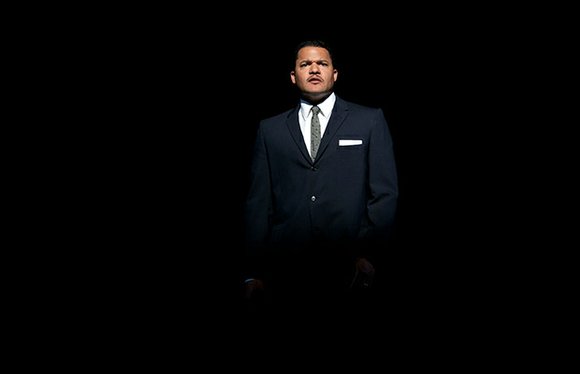 Houston native and actor Brandon J. Dirden returns to Boston in the much-talked about drama All the Way, from Pulitzer Prize-winning playwright Robert Schenkkan, which chronicles President Lyndon Baines Johnson's tumultuous first year in office in 1964. The production stars Bryan Cranston (Breaking Bad) as LBJ, Michael McKean (A Mighty Wind) as J. Edgar Hoover, Reed Birney (House of Cards) as Hubert Humphrey and Dirden (The Piano Lesson) as the Rev. Dr. Martin Luther King Jr.
The Houston native has appeared on Showtime's The Big C and TBS' Tyler Perry's House of Payne, and in several Broadway and Off-Broadway productions such as Clybourne Park and The Piano Lesson. Dirden's passion for acting also extends to his family, which includes his father Willie, younger brother Jason and his wife of 12 years, Crystal Dickinson, who appears opposite Brandon as Coretta Scott King in All the Way. The very talented Dirden earned a Bachelor of Arts in mathematics and drama from Morehouse College and an Master of Fine Arts from the University of Illinois at Urban-Champaign.
Prior to flying to Boston, Dirden spoke to the Banner about his upcoming role.
You're portraying such an iconic figure as Martin Luther King Jr. What kind of research did you have to do for the role?
As an actor, I like to start with the script, with what the playwright has given me. Sometimes you can overprepare. With a well written play it's not necessary. I have to be careful not to do an imitation of Dr. King. I'm trying to portray the essence of Dr. King and try to operate from that play first, as opposed to studying the cadence of his speech and his facial expressions. How he was driven to respond to the times.
One thing I'm learning about Dr. King as I'm combing through the videos, his public appearances show only one side of Dr. King. How were his interactions with Coretta Scott King? I have to do more of my detective work and use my imagination. I have to be more creative in trying to get the essence of the man. He had a different relationship with LBJ and Ralph Abernathy than he did with Coretta and [I] try to piece together the type of relationship he had with Coretta.
Are you excited to work with Bryan Cranston?
I'm a long-time admirer of his work. I highly, highly respect Mr. Cranston as an actor and this work will showcase him in a way that we haven't seen him in his other roles. He's defined himself as a serious artist, one with great depth and humor.
Are you going to see where the director takes you?
We do know for sure about Martin Luther King Jr. We're able to pull up speeches on YouTube. It's daunting because the rest of world has the same resources and they're like, "We know the man too." We have to consider those images; the sound bites, clips of Dr. King are some of the greatest speeches in history. What this play is going to do is really show how Dr. King was and that that he was a real man. That he was human. It's daunting. Our playwright has given us an incredible script.