Groups seek signatures for earned sick time and higher minimum wage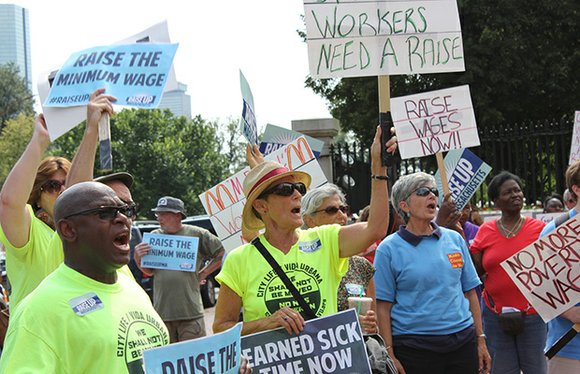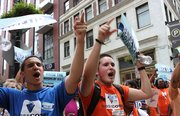 More than 50 Massachusetts organizations launched a signature-raising drive last week to push the state legislature to raise the minimum wage and ensure that all workers earn sick time if they or family members are ill.
On Friday, Raise Up Massachusetts, a group of community, faith and labor organizations, began its campaign to collect signatures on petitions to have questions about minimum wage and sick time on the November 2014 election ballot.
Each petition needs about 100,000 signatures to get a question or proposed measure on the ballot. The deadline is Nov. 20.
If enough signatures are collected — and then certified — by the deadline Massachusetts legislators would have until May 2014 to pass their own laws on the minimum wage and sick time issues.
The petition questions would then never go to ballot.
Lew Finfer is director of the Massachusetts Communities Action Network and a steering committee member of Raise Up Massachusetts. He said the signatures are crucial because of the potential ballot questions as well as the message these questions would send to state legislators now deliberating on several bills to raise the minimum wage and guarantee earned sick time.

Finfer points out that this is exactly what happened when Massachusetts passed its health-care law in 2008.
Legislators took note of the signatures collected for a petition and the public demand for a state health-care law and passed a law before it even got to a vote.
"We feel like we [would] have a really good chance to win if it was on the ballot next year," Finfer said. "But the most important part of the campaign really might be the signature gathering. If you get the signatures it sets up a different dynamic in that the people who organized the effort have a lot more chance to get what they want."
Raise Up Massachusetts already has some high-profile support from U.S. Sens. Elizabeth Warren (D-Mass.) and Ed Markey (D-Mass.) Both have lent their signatures to the effort already.
"Our workers are some of the most productive in the world, but no matter how hard they work, the minimum wage leaves them further and further behind," Sen. Warren said in a statement. "Hard-working men and women who are busting their tails in full-time jobs shouldn't be left in poverty. It's long past time to raise the minimum wage, which will help Massachusetts' working families and strengthen our economy."
What Raise Up Massachusetts wants, Finfer says, is a "living wage" for about 650,000 workers in the state who make the minimum of $8 an hour and about 1 million workers who don't have earned sick time. Those without earned sick time are almost one-third of the state's workers and are at risk of losing their jobs if they stay home to care for themselves or for a sick child.
"It is a really big number of people who are affected and who would benefit if this would pass," Finfer said.
The campaign is pushing to raise the minimum wage to $10.50 an hour and raise the tipped-employee wage to $6.60 an hour by 2016.