In their eyes
Arab women photographers lift the shroud of the Muslim world
Susan Saccoccia | 9/12/2013, 6 a.m.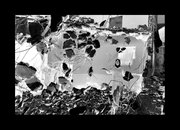 Young newlyweds gaze at the viewer from their beribboned wreck of a car, which stands alone in a battlefield. Iranian Gohar Dashti's droll, staged photograph of life in a time of war is one of the many memorable works in a new exhibit at the Museum of Fine Arts, Boston, She Who Tells a Story: Women Photographers from Iran and the Arab World.
On view through January 2014 and curated by Kristen Gresh, who also created the show's handsome catalog, the exhibition presents 100 works by 12 contemporary Arab and Iranian women photographers.
Countering clichéd Western views of women in Arabian cultures as submissive, shrouded and oppressed, these artists tell their own stories. Their works are art, but not for its own sake. Instead, the images are potent distillations of human experience, urgent as well as spectacular.
Drawing its title from the name of an artists' collective, rawiya, an Arabian word that means "she who tells a story," Gresh organizes the works into three groups: Deconstructing Orientalism, Constructing Identities, and New Documentary. The images explore such themes as gender power, the toll of war, gaps between the old and new and the struggle to carry on ordinary life in a war zone.

While all 12 artists were born in the Middle East, some currently live in the Europe or the United States. Only two are in their 50s and both of those live in New York: Shirin Neshat and Lalla Essaydi.
Inspired by a visit to Iran after the 1979 Revolution turned her formerly secular native country into a theocracy, Neshat's pioneering work asserts the power of Iranian women through traditional Farsi imagery.
 A still from her 1998 video installation "Turbulent," which won the Gold Lion at the 1999 Venice Biennale, shows a female singer holding a microphone, her face covered with the words of young Iranian women handwritten in delicate Persian script.
Under Islamic rule, female singers cannot record or perform in public. But in Neshat's film, male and female singers are equals. Appearing on opposite screens, the two seem to face each other. He performs first, before a male audience, singing verses by 13th century Sufi poet Rumi. She sings alone, in an empty hall. As his veiled female counterpart chants Islamic verses in wild, incantatory cries, the man's face becomes a study in awe.
Morocco native Essaydi also takes up the traditionally male tool of Islamic calligraphy, applying it directly to her models and their clothing. Her 2012 tryptich "Bullets Revisited #3" is both alluring and ironic, enfolding a supine woman in a shimmering backdrop composed of metal bullet casings.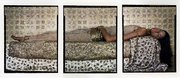 In her 2010 series "Listen," Newsha Tavakolian of Tehran portrays six Iranian singers who, as women, are denied recordings and audiences. She creates for each an imaginary CD cover — one emerges from the sea like an Arabian Venus, a poignant image of freedom. In soundless video clips, she shows each woman singing.

Slit-eyed black niqabs gradually engulf a mother, daughter and doll over the course of nine photos in a 2010 series by Boushra Almutawakel, who lives in both Paris and Sana'a, Yemen. At first the artist shows herself, her child and the doll in sunny headscarves. The ninth photo is simply a black shroud.