Swinging for the fences: 'The Base' uses sports to push student athletes to excellence on the field and in the classroom
Martin Desmarais | 9/11/2013, 1:37 p.m. | Updated on 9/11/2013, 1:37 p.m.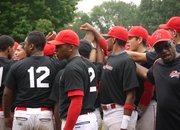 Robert Lewis Jr. believes in the power of sports to help boys succeed not just on the field, but in life.
He has proven that over the past three decades with his Boston Astros baseball program and he is looking to prove it even more with the launch of The Base, a nonprofit organization that pairs baseball training with educational support.
More than anything, though, Lewis, the former Boston Foundation vice-president, believes in the players.
"It is about belief, hope and opportunity," Lewis says. "I don't look at our kids in a deficit mode. If you look at our name it is The Base — which is foundation — and our theme is 'Success Lives Here.'"
The foundation for The Base is the Boston Astros baseball program — a 35-year old baseball organization started by Lewis and John Ruiz in the 1970s. It has served 8,000 players and more than 600 teams. It now has over 400 players, mostly black and Latino teenagers from Roxbury, Dorchester and Mattapan.
The Boston Astros home field park is Jim Rice Field on Washington St. in Roxbury. Its teams have won two national championships, one in 2010 and one this summer. The Boston Astros were also named the "Triple Crown Sports' 2012 Team of the Year."
There are about 30 former Boston Astros players attending college and playing baseball. And three former players are playing in Major League Baseball: Manny Delcarmen of the Boston Red Sox, Juan Carlos Portes of the Minnesota Twins and Nelfi Zapata of the New York Mets.
"What I have shown over the years is that I can take the same kids that others say are not successful, and win national titles," Lewis says.
The Base, which is headquartered in Roxbury and will serve players in neighborhoods such as Dorchester and Mattapan, is an extension of what Lewis has done with the Boston Astros.
The big difference now is that the education component will be required. And on this point, Lewis is very clear: If players do not keep up with the educational requirements of The Base, they will not be able to play baseball for the Boston Astros.
According to Lewis, The Base will focus on several approaches to help its players succeed. One is baseball training, condition and competition. Another is college readiness and after-school tutoring for academic achievement. A third is job training, skill development and learning. Finally, The Base will provide individual counseling, knowledge and resources.
"The bottom line for me," Lewis explains, "is I want very active engaged citizens that are equipped and resourced for the 21st century jobs that exist and are out there."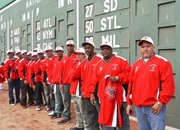 While the specifics are still being worked out, Lewis says that for every hour of playing baseball the athletes will have an hour of education-related prep work or life skills training. His hope is to provide to each player about 250 hours of off-the-field support a year.
To support this, the organization will have coaches, trainers, educators, social workers and administrators all on staff. The Base has also partnered with 13 area colleges and universities, including Harvard University, Northeastern University, Brandeis University, the University of Massachusetts Boston, Endicott College, Emerson College and Simmons College.