Community Call - creates a Greater Boston Young Leader Award
Kassmin Williams | 9/9/2013, noon | Updated on 9/9/2013, noon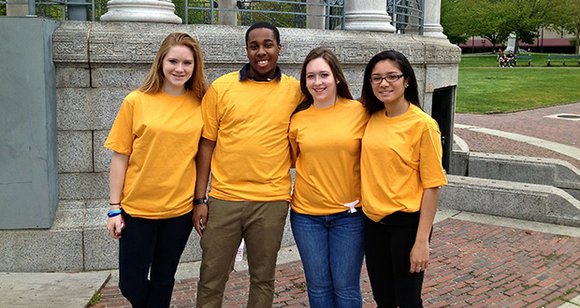 As Boston-based nonprofit Community Call moves into its second year of working with at-risk high school students in the city, the organization has found a way to expand its focus to better serve the students in its program.
Community Call works with high school students in its Community Call Event Planning Enrichment Programs where students plan and execute community events while getting hands on training in business, leadership and making a positive difference in the community.
To further highlight the importance of community service, Community Call has created the Greater Boston Young Leader Award that will honor two young leaders: one who is at the start of their community activism and another who has already made a significant impact.
"We really thought it was important that we establish role models, so that we're not only teaching [our students] the skills and teaching them self empowerment, but they have the opportunity to see that other people have made a difference in the community that are in their peer groups or maybe a little bit older," Community Call executive director Carolyn Edwards said.
Edwards said the organization hopes those honored can help students envision the long-lasting impacts their own effort can have on the community.
Twenty-four award nominations were gathered from all parts of the city through three Community Call students, ONEin3Boston, various Boston foundations and the general public.
Out of the 24 nominated, Boston mayor youth council member Benjamin Haideri, 18, and executive director and founder of InnerCity Weightlifting Jonathon Feinman, 29, were chosen to receive the inaugural Greater Boston Young Leader Award.
"I think they're both wonderful role models not just for our students but really for anybody who wants to see that as challenging as things are in the community if we really think about it and put our heart into it each of us can make a difference," Edwards said.
Haideri was chosen to be one of 40 students to serve on the mayor's youth council by Northeastern University, the city of Boston and the Boston Bar Association.
As a council member, he meets with Mayor Thomas Menino and other city leader to discuss youth issues and outreaches in his neighborhood to listen to his peers concerns, share information and organize community service projects.
Recently, the Roslindale resident spoke to more than 3,000 local elected officials and community leaders from across the nation requesting they recognize the importance of including young people in government.
Haideri also works with the Mayor's Youthline program to maintain its website and create posts with youth council news.

Feinman's work also involves working with youth.
InnerCity Weightlifting aims to work with students on a direct path to gang involvement, former and active gang members and young victims of domestic abuse and seeks deter the youth from violence by empowering them through individualized fitness goals which in turn allows them set other positive goals like finishing school and landing a job.
"He's just really exceptional in terms of coming in and working with people who much people in society would turn their back on because they've already got criminal backgrounds or they've been involved in gangs," Edwards said. "He has not only taken on the challenge of working with these people but he invests himself completely in their success not only in terms of job training but in terms of helping them receive their GED and getting them acclimated back into society."