John Connolly, Marty Walsh go toe-to-toe in Boston community of color debate
Shanice Maxwell | 10/30/2013, 12:59 p.m.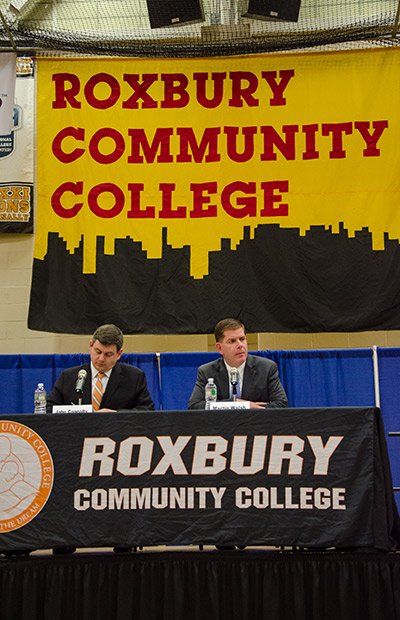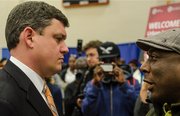 Crowds of John Connolly and Marty Walsh supporters could be seen and heard blocks away from the Reggie Lewis Track and Athletic Center in Roxbury long before last week's Oct. 23 forum began. With the Nov. 5 mayoral election drawing near, nearly 600 people came out to attend the second community of color debate.
"This could be the pivotal debate because this community has power. This community is important. This community could make the difference in this race — and will," said Rev. Liz Walker, award-winning TV journalist and documentary film producer, who kicked off the debate.
To open the debate the candidates were asked: "Last month, 35 percent of voters — more than 39,000 individuals — voted for a candidate of color. How can you tell these people that a vote for you is in their interest?"
The items up for discussion were economic development and job creation, education and housing.
Boston City Councilor at Large John Connolly and state Rep. Marty Walsh each promised an administration more reflective of Boston as a majority-minority city, with the inclusion of more women and people of color as an integral part of their job creation strategy.

Both cited the development sector and the Boston Redevelopment Authority as two of many areas in dire need of diversity.
Pledging that he'd make his administrative cabinet at least half people of color is "the easiest promise I can make," Connolly said. "And that's not a quota — the talent is there it's just being put on the sideline."
Making certain that businesses of color and small business have the resources needed to thrive and excel on an even playing field is also something Connolly said he will focus on.
"We have 64 positions of leadership in the city and four people of color," Walsh said. "That needs to change."
"We need to create business opportunities, not just on the waterfront, Downtown Crossing, and in Copley. But we need to bring those opportunities to our neighborhoods," Walsh added.
Closing the achievement gap between underachieving students of color and their white peers dominated much of the education conversation.
To close the gap, Connolly expressed the need for "a holistic strategy," one that would start as early as the "prenatal stage when a mom is going to a community health center."
"Once that baby is born, it's got to focus on the early literacy piece," Connolly said. "When you bridge to the school, make sure you're fully staffed for social emotional support in school."
"We study everything in this city to death, but we need to stop studying and start implementing," Walsh noted.
To implement, Walsh mentioned changing the structure of core classes, creating intensive programming in high school and ensuring all students pass MCAS as a means to moving them closer to graduation, not to push for standardized testing. Using "short- and long-term strategies" all inclusive of the city's students — those college bound and those pursuing careers in trades — to adequately prepare them is a must Walsh also said.