Examining the beauty and harmony of Islamic artist Shirin Neshat
Susan Saccoccia | 10/30/2013, 1:37 p.m.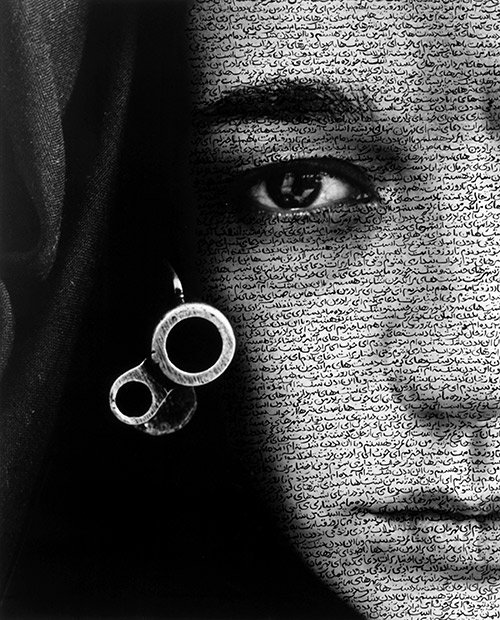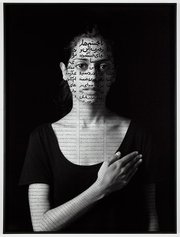 Beauty and harmony are paramount in Islamic art. These qualities are also integral to the photographs, videos and films of Shirin Neshat. Born in Iran in 1957, the New York-based artist engages the Persian aesthetic and cultural traditions of her homeland to explore the ever-changing present of Iran. Her ravishing images show women crossing boundaries and asserting power despite Islamic norms that constrict their freedom.
A rifle barrel protrudes like an earring alongside the face of a young woman in an image from Neshat's 1996 series, "Women of Allah," in the show "She Who Tells a Story: Women Photographers from Iran and the Arab World," on view through Jan. 12 at the Museum of Fine Arts Boston.
Nearby is a still photograph from Neshat's video installation "Turbulent" (1998), which won the top prize at the 1999 Venice Biennale. The viewer stands between two short films that play on opposite walls. On one screen, a male sings a poem by the 13th century mystic Rumi to an audience of men. He then turns to face the opposite screen, where a woman in a chador launches a raw, incantatory vocal improvisation in an empty hall. As the man watches his veiled counterpart, his face becomes a study in awe.
Although under Islamic rule, female singers cannot record or perform in public, in Neshat's installation, the man and woman are equals.
In art and life, Neshat migrates between two worlds. In 1974, at age 17, she left Iran to attend college in the U.S. Five years later, the 1979 revolution transformed her formerly secular country into an Islamic republic and she remained here. Neshat returned to Iran in 1990, a journey that inspired her to render the experience of contemporary Iranian women under Islamic rule. Since 1996, Iran's government has not allowed her to enter the country, regarding her works as challenging Islamic norms.
Neshat has become an international art star whose works are in the collections of major museums throughout the world. In 2013 alone, she has had solo exhibitions in Madrid, Istanbul and Beijing along with a mid-career retrospective at the Detroit Institute of Arts.
Visiting the MFA to give two sold-out lectures in between teaching engagements at the Yale School of Art and the London Film School, Neshat embodies the minimalist beauty found in her art. A slender woman with kohl-lined eyes and black hair knotted away from her face, she wears a black dress and an intricate silver necklace. Talking over coffee at a museum café, she is warm and unassuming, and speaks with conviction in a soft voice.
When creating films, videos and photographs, Neshat directs the filming but does not work the cameras. "I am a western conceptual western artist," says Neshat, who considers herself an heir to the century-old trend in art famously proclaimed by Marcel Duchamp, who argued that an artist's idea matters more than the resulting object.
Yet as Neshat composes images, she is guided by Islamic aesthetic principles she has absorbed since childhood. "Harmony is the essence of Islamic art," says Neshat. "I grew up with Persian visual traditions. They are inherent and intuitive in me. From Persian miniatures to architecture, these principles include abstraction, simplicity, geometry and symmetry and the integration of text into the design."