Dorchester's Quincy Street Corridor gets $100 million investment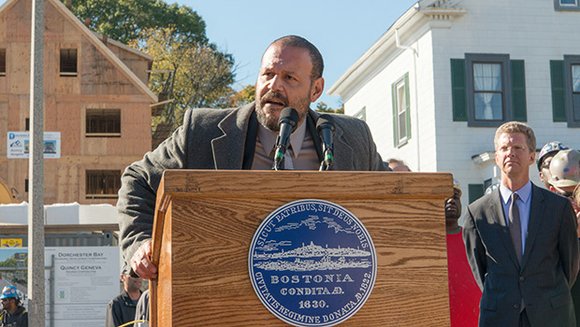 Over a few short blocks of Quincy St. in Dorchester, beginning on Blue Hill Ave. and heading east to Columbia Rd., a push to revitalize the area is on full display with four major projects spread out on both sides of the street and close to $100 million designated for investment.
At the heart of the work is the Quincy Heights project, which will rehabilitate nine former public housing buildings and construct two new buildings to create new affordable housing units in two phases. The proposal is for 80 new affordable housing units in the first phase and 49 new affordable housing units in the second phase. The $56 million budget of the project includes $3 million for increased social services in the surrounding community and $3 million for community developments around Quincy Heights.
The project is a culmination of six years of work by Dorchester Bay Economic Development Corp., Quincy Geneva Development Corp., United Housing Management, Dudley Street Neighborhood Initiative and Project RIGHT. Construction on the development started this summer and is expected to finish in December 2014.
Dorchester Bay EDC is also taking the lead on another development project on Quincy St. — the $14.5 million Pearl Small Business Food Production Center, which will help startups and small food businesses get off the ground. CropCircle Kitchen Inc. is leading the renovation of the 36,000-square-foot single story building, which was once home to the Pearl Meat Factory, into a shared, multi-tenant food production facility.
According to J.D. Kemp, founder and executive director of CropCircle Kitchen, the goals of the food production center will be to create 150 permanent jobs, promote entrepreneurship and small business development, build the infrastructure to support local food systems and improve access to locally produced, healthy food for low-income families.
Renovation work on the center is now underway and it is scheduled to be completed in April 2014.
There are two other projects that are contributing to the revitalization of what is being called the "Quincy Street Corridor."
The first is the $20 million new construction of 44 homes for seniors with ground floor retail space right on the corner of Quincy St. and Blue Hill Avenue.
The second is $4 million redevelopment of a 20,000-square-foot auto repair shop at 259 Quincy St. into a digital design, education and fabrication training and industrial arts facility. The project is being called "259Q — The Dream Factory" and is being done in collaboration with Dorchester Bay EDC, Fablabs4America and Urban Idea Lab.
"This is like a 'wow' change," said Jean DuBois, executive director of Dorchester Bay EDC. "We have never done so much in one place. To have three projects in three blocks is huge. And then to have two of those be job centers for the local people — we thought we might put housing over a community space here and the people said, 'No, no, no we need jobs.' And they meant it and we are going to have 150 jobs here."
According to DuBois, Dorchester Bay EDC's efforts along Quincy Street fit perfectly into the organization's strategy of developing housing and commercial projects with the help and cooperation of community residents and partners.