Black pols endorse Marty Walsh for Boston mayor, John Connolly gets clergy nod
Yawu Miller | 10/23/2013, 11:05 a.m.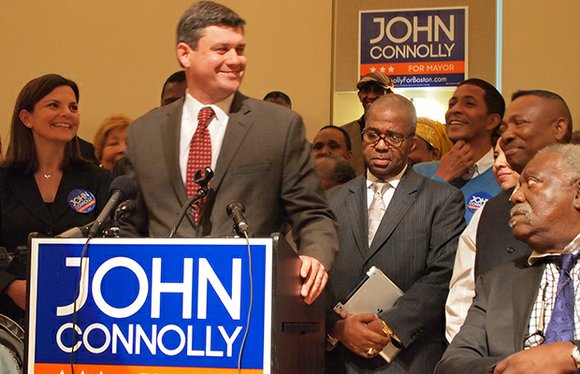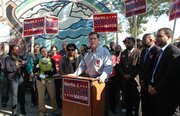 Two weeks ago, when former mayoral candidates Felix G. Arroyo and John Barros endorsed state Rep. Marty Walsh over City Councilor John Connolly in the mayor's race, the focus was on Walsh as observers mulled the duo's ties to him.
But as black and Latino elected officials past and present continued to walk into the Walsh camp, the focus among political observers shifted to Connolly and the question of why no black or Latino elected officials, past or present, are throwing their weight behind the councilor.
Elected officials interviewed by the Banner cited past ties to the candidates, the candidates' temperaments and their stances on public policy issues as major factors in their decision to endorse Walsh.
At this point it's much easier to list the black and Latino elected officials who haven't endorsed at all in the race than to list those who've endorsed Walsh: state Reps. Byron Rushing and Jeffrey Sanchez are on the sidelines as is City Councilor Ayanna Pressley, who has publicly stated that she will not endorse either candidate.
The lack of support from his colleagues of color prompted Connolly to joke in a Monday rally that President Barack Obama is scheduled to endorse Walsh this week (he is not).
Pressley's reluctance to weigh in is particularly telling, given that she and Connolly campaigned together in the 2012 at-large race, sharing campaign schedules and making joint appearances.
Pressley told the Boston Globe she knows both candidates well and that the city would be well-served by either.
The apparent unwillingness of any officials of color to side with Connolly raises questions of whether or not Connolly can work effectively with blacks and Latinos.
One black elected official, speaking off the record, cited Connolly's temper, an inability to work collaboratively with other officials and his proposed school assignment plan — which would have essentially returned Boston to a neighborhood school system — as key reasons he got no support from black and Latino elected officials.
While Connolly's home neighborhood of West Roxbury has four elementary schools, most black and Latino neighborhoods have more students than seats in their schools. And some neighborhoods have no schools at all.
The candidates' stances on issues like school assignment and school reform were important to black and Latino politicians, who met the previous weekend to discuss endorsements. The officials met with both candidates and decided Walsh better understood their issues, according to state Rep. Carlos Henriquez.
"Marty as a district representative has worked on a lot of issues — substance abuse, schools, housing," he said. "John represents our neighborhoods, but I don't think he's had the same focus on the issues in our neighborhoods."
For his part, Connolly seems to have garnered the majority of endorsements from black ministers, picking up support from reverends John Borders, Miniard Culpepper, William Dickerson, Thomas Cross and Bruce Wall, among others.
"John may not be at the top of the list when it comes to elected officials high-fiving him and promoting him, but he's at the top of the list when it comes to grassroots support," Borders said during Connolly's Monday rally, which was held at Hibernian Hall in Roxbury.