Ayanna Pressley keeps focus on families, schools
Yawu Miller | 10/23/2013, 11:11 a.m.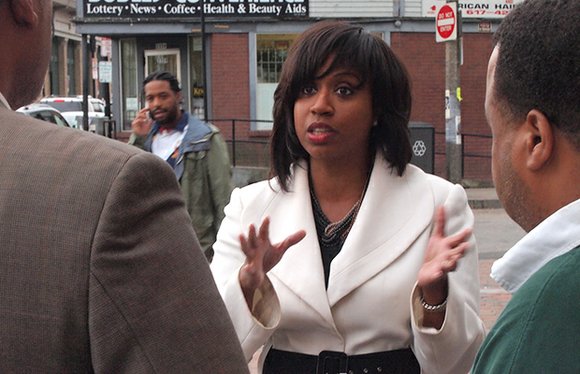 In 10 minutes on a sidewalk in Dudley Square, City Councilor At-Large Ayanna Pressley engages in a series of conversations with constituents that outline the highlights of her work over the last two terms.
Dressed in a finely-woven grey houndstooth suit, business owner Michael James Christian expresses more than a little skepticism about the efficacy and effectiveness of the council.
Pressley steers the conversation toward her priorities for k-12 education, how she has been advocating for more funding for wraparound services for children who come to school with what she calls "adult problems" — child abuse, parents with addiction issues, homelessness and traumas.
"We're not allowing teachers to be teachers because they're too busy being social workers," she says. "At the end of the day, if a child enters their school and isn't ready to learn, it doesn't matter how good the teacher is at teaching."
Then, as she often does, Pressley gives Christian a snippet of her own life story, how she came to school, the child of a single mother with a drug-addicted father, the victim of sexual abuse — and how, despite tests that showed above-average intelligence, she failed to thrive in school.
When community activist Vivian Phillips asks her about what the council is doing to help people with criminal records find work, Pressley turns again to her experience with her father, whose addiction landed him in prison.
"I know intimately how hard it was for my father to reintegrate into society," she says. "We have to create more CORI-friendly jobs. That's why I trying to get more restaurants to open in Roxbury. Because culinary arts is one of the most stable jobs people with CORIs can get."
Since her first run for the Council in 2009, Pressley has used her personal story to drive her work, focusing heavily on issues of violence and sexual abuse.
She has told parts of her personal story on the floor of the City Council chambers, where she first publicly disclosed that she was sexually abused as a child, and on the campaign trail, where in 2012 she placed first among at-large candidates, with more than 37,000 votes.
In the Sept. 24 preliminary, Pressley cut though the campaign chaos generated by a field of 19 at-large candidates and again topped the ticket with 42,875 votes.
Throughout the campaign, Pressley says she's staying focused on her work as head of the Council's Committee Women and Healthy Communities.
To bring more resources into schools with students suffering from abuse and traumas, Pressley is meeting with representatives of schools and community health centers. She's held hearings and fought to increase the school budget to fund more services.
She has also fought for comprehensive, culturally competent and age-appropriate sex education for high school students. She brought together a coalition of groups to work on a plan that has been adopted by Boston Public Schools and will soon be implemented.
Pressley says she was well aware that sex education presents more than a little political risk.