New MFA Boston gallery offers rare view of ancient Edo culture
Shanice Maxwell | 10/16/2013, 12:19 p.m.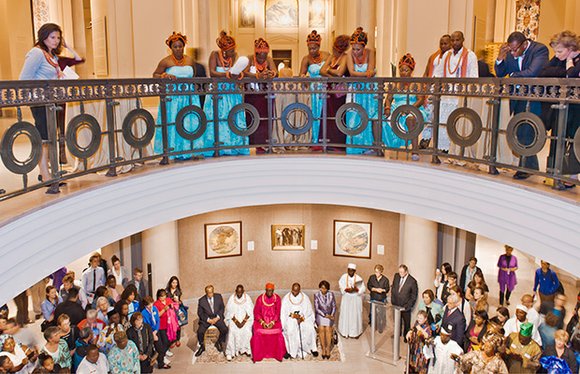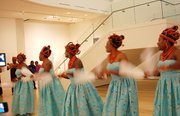 With a diverse crowd of over 250 people, it was no ordinary evening at the Museum of Fine Arts, Boston. At the opening of the Benin Kingdom Gallery, many gathered to celebrate and witness the history, art and culture of the Edo people, who inhabit the ancient kingdom located in present-day Nigeria.
The gallery contains 34 rare art pieces possessing considerable significance and symbolism for the Edo culture. Those of Edo heritage at the opening event described it as recognition of a treasured part of their culture and a bittersweet, proud and overwhelming moment.
The free public event sponsored by the MFA and Coalition of Committed Benin Community Organizations, representing the current Oba, or King, of Benin along with several Boston Edo groups, was chock full from beginning to end and included a display of "background about the kingdom [that demonstrates] how Africans participated in a global economy as early as the 16th century according to an MFA press release.
The opening began with remarks from Malcom Rogers, the Ann and Graham Gund Director of the MFA, His Royal Highness Gregory I. Akenzua, brother of the current Oba of Benin Kingdom, and Dr. Arese Carrington, a descendant of Oba Ovonranwen, who ruled the Benin Kingdom in the 19th century.
Throughout the event there were several activities happening simultaneously around the museum for attendees of all ages. Some families with children sketched what they saw in the gallery and made wearable pendants to take home, while others got drawing tips and ideas from an artist while they sketched in the courtyard.
Crowds of people enjoyed traditional Edo dance performances complete with dancing, drumming and singing while others learned about the ancient technique of bronze casting and the history behind the Benin Kingdom's unique works of art. Many even got to enjoy the taste of various Nigerian-inspired dishes. Certainly, there was something there for everyone to enjoy.
But for the Edo people who were involved in the showcase and those who came simply to visit, this was more than just an exhibition of art. For them is was and is a reflection of a thriving piece of their identity as a community and people — one that they appreciate having shared on a much larger scale.
For attendees like 40-year-old Jean Desrosiers of Roslindale the gallery provided a window into his family's past — one that he hoped would give him insight and a sense of connection of who he is to where his family comes from.
"I came to see the exhibit because we traced our ancestry back to Nigeria, to the Oba family, so I came to see a part of my legacy, my culture, my roots," Desrosiers said. "I'm feeling a lot of respect and awe. I'm humbled and grateful to whomever collected this art so we can see this and share it. I feel inspired and I'm definitely touched."
Nigeria native and Roslindale resident Katie Igiede dressed in some of her best traditional garb for the opening and could hardly contain the excitement she felt.