Fiddlehead Theatre finds new home at the Strand Theatre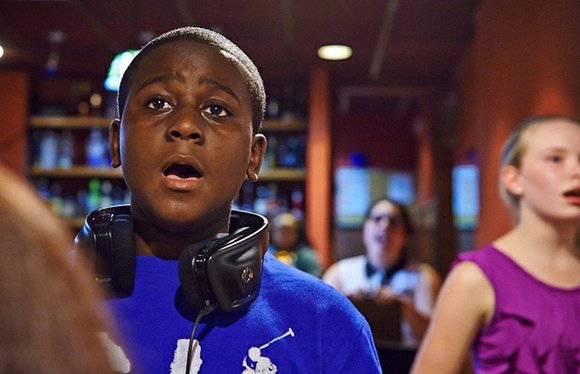 A group of teens spread out and sat at tables with diners at Restaurant Laura, where they engaged the guests in conversation and then burst out into a 60-minute performance of "Fame Jr." during the pop-up dinner theatre that kicked off the children's program at Fiddlehead Theatre about two weeks ago.
The partnership that Restaurant Laura and Fiddlehead created to make the pop-up theatre dinner possible is an example of the type of community building Fiddlehead Founder and Executive Director Meg Fofonoff hopes to accomplish for the theatre company as Strand Theatre's new resident.
"We're not just there to produce theater. We're there to embrace the community and find out what they're looking for, make theater accessible and at the same time produce, in our long-term tradition, Broadway-quality shows," Fofonoff said about Fiddlehead's residency.
Fiddlehead, which started in Dedham and later moved to Norwood, became the resident theatre company at the Strand after the 20-year-old company performed "Ragtime" at the Strand last October.
At the time, Fiddlehead had already left its home in Norwood. Fofonoff began looking for a new home and decided to focus on the city.
"I think although we were in the suburbs, I was always interested in looking further afield. It was limited in terms of what those audiences wanted and what we could do," Fofonoff said. "I was always interested in a more urban kind of setting and bringing something different to a community that really needed it."
Fofonoff said she chose to perform "Ragtime" at the historic Dorchester theatre because it's topics — discrimination, women's rights and immigration — remain important to the world today and are reflective of some of the issues in the community.
During Fiddlehead's time at the Strand, it became evident that it was the theatre Fofonoff had searched for.
"It really started a whole new chapter where I said it was really the place for us to be," Fofonoff said. "It was our destiny, as someone said to me, to be there and revitalize that beautiful theatre."
After the performance and some discussion, Mayor Thomas Menino and City of Boston Director of Entertainment, Tourism and Special Events Chris Cook decided Fiddlehead would be a good fit for the Strand.
"I'm delighted Fiddlehead Theatre Company's 2013–14 season will be as resident company of the Strand Theatre," said Menino in a statement on fiddleheadtheatre.org. "The city invests in the Strand because we recognize that it is an irreplaceable part of Dorchester's community and culture. After the success of Fiddlehead's 2012 production of 'Ragtime' at the Strand last year we knew this would be a valuable partnership for the Strand and for the City of Boston."
As Dorchester's new theatre company, Fiddlehead has two goals — to build interest in theatre in the immediate community and attract theatregoers from outside of the community.
Fofonoff hopes to do this by producing shows like the upcoming performances of "A Little Princess" and "Aida" that have some relevance to the community, but are high-quality shows.