Boston Public Health Commission gets $300K grant to aid health insurance enrollment
10/16/2013, 12:01 p.m.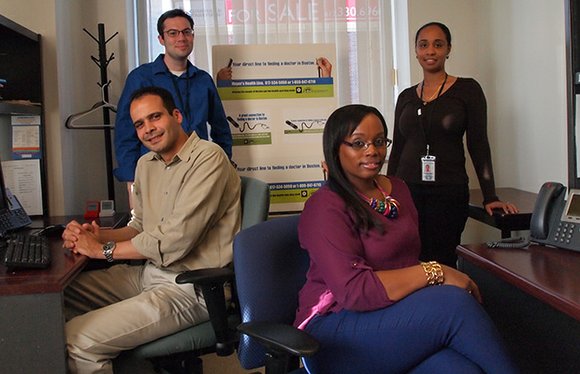 The Boston Public Health Commission hit the ground running last week with efforts to help the uninsured in the city enroll in the many health-care options that are part of the newly implemented Affordable Care Act.
BPHC was given $300,000 from the Massachusetts Health Connector, which was used to add staff members and train others to make sure people choose the best health-coverage plan.
The Affordable Care Act, commonly referred to as Obamacare, is federal legislation that was signed into law in March 2010 to increase the quality and affordability of health insurance and lower the number of uninsured. It includes mandates that require individuals to enroll in their choice of health plans and also requires health insurance companies to provide coverage with new minimum standards.
The open enrollment period for the Affordable Care Act began on Oct. 1 and will last until March 31, 2014.
According to BPHC officials, it is estimated that up to 97 percent of adults — and a slightly higher percentage of children — in Boston are currently insured. Boston still has the largest total number of uninsured residents compared to other cities and towns in the state.
However, BPHC officials explain that this high number is partly a result of the fact that Boston is the biggest city in the state, with a population that includes many immigrants, is younger and more racially diverse and has an average lower income — all factors that lead to lower rates of health-insurance coverage.
Nationally, the Affordable Care Act is expected to help 32 million Americans gain access to health care.
"Massachusetts led the way in providing access to health insurance, and in Boston we know how important it is for our most vulnerable residents to have coverage. The federal mandate is an opportunity to build on the success we've had locally, but we need to work together to spread the word about changes so that people don't fall through the cracks," said Dr. Barbara Ferrer, executive director of the Boston Public Health Commission in a statement. "If you're seeking insurance coverage or have questions about the new options we want to make sure there's no wrong door."
BPHC will be relying heavily on its Mayor's Health Line to lead the outreach efforts to get Boston's uninsured the coverage they need.
"Like with every new law and legislation [with the Affordable Care Act] there is so much literature and rules and policy it is difficult for the uninsured to understand what their options are," said Bradley Moore, project manager at the Mayor's Health Line. "They need people who can go into the community and explain what is going to change for them."
The Mayor's Health Line and BPHC have staff they call "navigators" to help constituents. According to Moore, navigators are certified BPHC employees who are trained to interact with people in person or over the phone and walk them through their health-insurance options.
Navigators can answer questions and explain coverage options, provide personalized information about eligibility, assist with application and enrollment in the right plan, and help people find health-care providers. Navigators can be reached by phone or email. The services provided are free and confidential and are being offered in many languages, including English, Spanish, Portuguese, Haitian Creole and Cape Verdean Creole.