Fresh Truck
Healthy food on wheels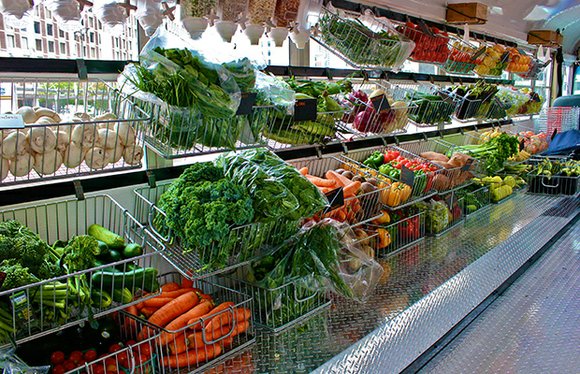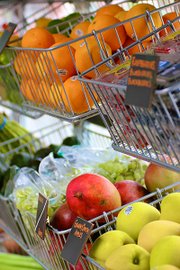 Like many other residents of a Dorchester housing complex, Toni Cromwell does not have a car and described the distance from her apartment to a grocery store as "quite a walk."
Cromwell and her neighbors aren't the only Boston residents living in what is referred to as "food deserts" — areas with limited access to healthy food — as Northeastern graduate Joshua Trautwein discovered.
About a year ago while working at the Massachusetts General Hospital Charlestown HealthCare Center with the Fitzgerald Youth Sports Institute, Trautwein asked families for feedback on a program he conducted on promoting wellness and healthy eating at home.
"One of the moms came back and told me she learned a lot, but it was still pretty difficult for her to shop for healthy food on a regular basis because she didn't live near a grocery store," Trautwein said.
Trautwein also learned that it took some Charlestown families up to 45 minutes to get to a grocery store and that many turn to corner stores, which offer higher prices and processed foods.
Trautwein's findings led him to partner with business-savvy friend Daniel Clarke to launch Fresh Truck, a mobile farmers market that travels to areas like Dorchester, Roxbury and Mattapan to sell fruits and vegetables for a price about 20 percent lower than the average supermarket, according to Clarke.
Clarke admitted he really didn't understand "food access" and "food deserts" until he discovered a report that pinpointed areas in Boston that weren't close to grocery stores — and the prevalence of diet-related health illnesses in those areas.
"The correlation was almost one-to-one with how bad food access was and how bad the diet-related illnesses are in that community," Clarke said. "It really bothered me that it was such a huge issue going on in my back yard and I didn't know."
After coming up with the concept, Trautwein and Clarke entered a business planning competition sponsored by Boston Rising where they were granted $5,000 in support of their idea.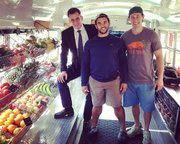 The duo also launched a campaign through Kickstarter — an online crowd-funding resource — through which they were able to raise $32,000, which covered the renovation and operation of Fresh Truck.
They also received donated service from MAACO in Dorchester for paint service and a Dorchester refurbishing company for the build-out of the mobile store, which was originally a school bus, Clarke said.
Produce-filled baskets line the inside of the bus while baskets hang on the outside for those who prefer to shop outdoors.
About 80 percent of the produce offered by Fresh Truck is staple fruits and vegetables and the other 20 percent vary based on the tastes of the neighborhoods being served that day, according to Clarke.
"[On Wednesdays] we go to more Latin-based communities so we'll have papaya, yucca and different types of mangoes," Clarke said.
One of Fresh Truck's Wednesday stops includes the Gallivan Boulevard townhouses where Cromwell resides.
The co-chair of the Gallivan Boulevard tenant association searches for deals before food shopping and says the produce sold at Fresh Truck is dollars cheaper than in supermarkets.