Welcome to the jungle: 'The Jungle Book' play is a joyful dream at Huntington Theatre
Susan Saccoccia | 10/9/2013, 2:20 p.m.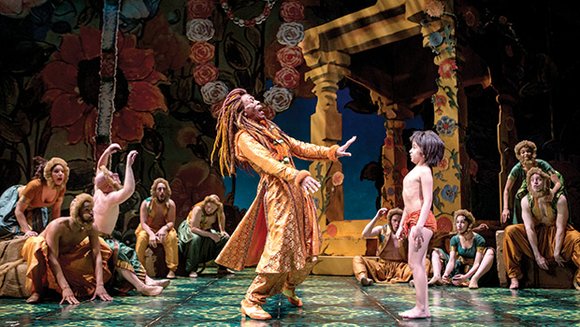 Author Rudyard Kipling transformed the 19th-century colonial India of his childhood into a realm of adventure in "The Jungle Book." In turn, Walt Disney recast Kipling's dark tales into a high-spirited 1967 animated musical movie. Now onstage at the Huntington Theatre through Oct. 20 is a sweetly spectacular live production of "The Jungle Book," directed by Tony Award winner and MacArthur Fellowship ("genius award") recipient Mary Zimmerman.
The stage of the Huntington's BU Theatre in Boston teems with music, dance and singing as well as memorable turns by the show's actors and 14-piece orchestra. While the first of its two acts is slow to gel story-wise, this irresistible production at times approaches the controlled delirium of a Marx Brothers comedy and the pageantry of a Bollywood extravaganza.
Unfolding like a child's joyful dream, this coming-of-age story set in an animal kingdom invites comparisons with another stage musical, "The Lion King," directed by Julie Taymor, also a MacArthur Fellow and Tony Award winner drawn to turning timeless fables into stage musicals.
Produced with Disney Theatrical Productions in association with Chicago's Goodman Theatre, where it played this summer, Zimmerman's "The Jungle Book" is more of a boutique production, capitalizing on intimate details to captivate the audience.
While the story of the "man cub" Mowgli forms the musical's slight plot, Zimmerman's true subject is the sheer joy and conjuring power of live performance. Celebrating a pleasure gene lineage stretching from Kipling and Walt Disney to Louie Armstrong as well as Indian classical music and dance, Zimmerman has concocted a delicious mulligatawny — the chicken stew flavored with local spices devised by Indian servants for their British patrons — and added a dose of New Orleans gumbo.
The "man cub" Mowgli first appears as a cloth figure of an infant. She-wolf Raksha (Anjali Bhimani) discovers the baby, and leading a lullaby in a lovely voice as her pack howls along, she quickly wins the debate about whether they will eat the cub or raise him. The rest of the first act consists of Mowgli's encounters with various species in the jungle, each an excuse for a euphoric episode of song and dance.
Mowgli, as played by Akash Chopra (alternating the part with Roni Akurati), brings a winning naturalness to his role, expressing the glee of a boy whose buddies are a protective panther and a fatherly bear.
Wearing a sleek black costume, Usman Ally is Bagheera, a talkative, philosophizing panther. Encircled by wires that suggest girth, Kevin Carolan is lumbering and lots of fun as Baloo the bear, who bonds with the boy by singing his infectious anthem to taking it easy, the Terry Gilkyson song, "The Bare Necessities." Later, when a band of monkeys kidnaps Mowgli, Baloo belts a mournful blues.
The singing, dancing actors lend their animal characters personalities and trademark tics.
Nikka Graff Lanzarone, on towering stilts as a regal peacock, imitates the head-jerking movements of a bird scanning for sounds.
The wolves' exuberant tails spring up on cue. A gang of raucous monkeys explodes in hoots. A quartet of vultures wearing black stovepipe hats and white feather boas chants, "We're hungry flesh eaters but we're not mean." As Kaa, a snake who hypnotizes his prey, Thomas Derrah snickers in a brocade tunic.