Northeastern expansion plans trigger widespread concerns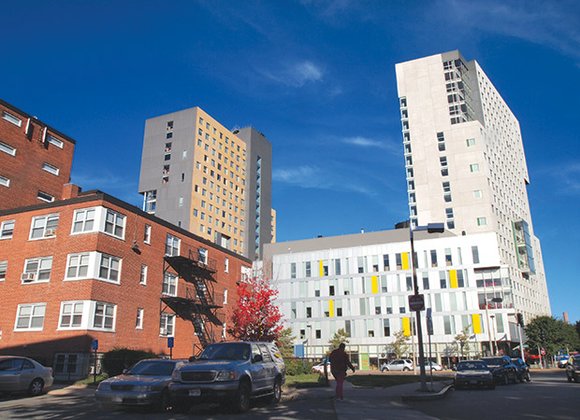 This week Northeastern University goes in front of the Boston Redevelopment Authority with its new 10-year master plan for expansion and development, along with a request for a permit to start work on a new science center. Community concern has risen quickly about the amount of student housing that will be part of this plan, the lack of communication with adjacent neighbors and response to worries voiced by those neighbors.
Northeastern's appearance before the BRA is scheduled for after the Banner goes to press on Tuesday evening. Northeastern did not return calls for comment on the proposed plan and many parties involved are holding comments until after the BRA's response.
All told Northeastern is proposing about $2 billion in construction on approximately 3 million square feet of university land, with a substantial portion of this construction in Roxbury.
If Northeastern's plan goes forward as proposed the first new construction Roxbury residents would see is the new Interdisciplinary Science and Engineering Building on Columbus Ave.
The proposed building would contain 220,000-square feet of floor space and be six stories high. This development is touted by the school as being part of a series of new campus spaces that would connect its Roxbury property through its land into the Fenway.
It is not the amount of development in Northeastern's proposed plan that concerns most; it is what the plan lacks that has local residents and officials worried — namely more student housing.
As Northeastern continues to pursue its stated goal of transforming from a mostly commuter school into a research institution with more students living on or around campus the clash over housing between the university and surrounding communities has intensified. In the late 1980s, the university had some 40,000 students, but many were part-time and most were commuters. In the 1990s, the school started to accommodate more students on campus, but also drastically reduced its number of students by almost half to accommodate them. Undergraduate students dropped to fewer than 12,000 during this time. Today, Northeastern has just over 20,000 students, with about 13,000 undergraduates.
From the 1990s until now, the university has gone from about 3,000 dorm beds on campus to more than 7,000, with over 700 more to come in dorm construction already underway. That leaves more than 12,000 students living in Boston-area neighborhoods. And this is something that community officials and residents want changed.
Roxbury, in particular, has a history of troubles over the presence of Northeastern students and the university's response to concerns. A previous Northeastern University master plan attempted to ease these worries by planning more dorm rooms and stating a goal of housing 75 percent of undergraduates on campus.
However, the new master plan reduces the number of dorm rooms proposed to accommodate only 60 percent of students. School officials still say Northeastern still has a goal of housing 75 percent of its undergraduate students — but not until 2023.
The issue of housing has led to public criticism from City Councilor Tito Jackson. Jackson has called for Northeastern to honor its previously set goals to house more students on campus. He also is not satisfied with Northeastern's goal of housing 75 percent of its undergraduate students by the end of the 10-year master plan — he calls for this to happen in the first five years of the plan.