John Connolly, Marty Walsh compete for support from blacks, Latinos in Boston mayor's race
Yawu Miller | 10/9/2013, 2:18 p.m.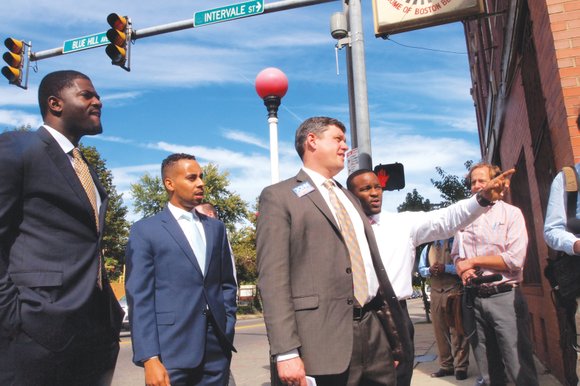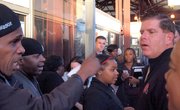 In the mayoral preliminary, the challenge for any of the serious contenders was in securing and turning out their respective voter bases. The two candidates most successful in that game — Marty Walsh and John Connolly — advanced to the final election.
Connolly relied heavily on the predominantly white neighborhood of West Roxbury, where he resides, Walsh on South Boston and the predominantly white precincts in Dorchester, where he lives.
Between their neighborhoods live the majority of Boston's communities of color — African Americans, Latinos, Cape Verdeans, Vietnamese and Chinese. Add in the progressive-voting whites who populate Jamaica Plain and the South End, and you have a near-complete list of the constituencies for whom Connolly and Walsh must now contend.
"The communities of color vote is a game changer," Walsh says.
Both candidates desperately need to change their game. Neither had more than a thin sliver of votes in the city's predominantly black and Latino precincts in the preliminary.
"Both candidates have a lot of work to do," said State Rep. Jeffrey Sanchez, whose district includes parts of Jamaica Plain and a sliver of Brookline. "The next few weeks will be very interesting."
To reach black, Latino and Asian voters, the candidate will have to speak to their issues, Sanchez says. That means they will have to address a wide range of issues, including crime, educational disparities and economic disparities.
"There's a lot of prosperity in this city," Sanchez commented. "We want to make sure that prosperity is flowing in the heart of the city as well."
The tension ratchets up this week as key community groups and individuals make endorsements. At large City Councilor Felix G. Arroyo and former Dudley St. Neighborhood Initiative executive director John Barros were the first out of the starting blocks with an endorsement of Walsh's campaign.
At the Banner's press deadline, a coalition of community-based organizations called the Community of Color Leadership Group was scheduled to meet at the Boston Teachers Union headquarters in Dorchester.
Coalition members said they planned to review Walsh and Connolly's plans for tackling a list of issues including educational disparities and school assignment policy, gun violence, police profiling and housing development.
"They need to make concrete commitments," said Mariama White Hammond, executive director of Project Hip Hop, a youth organizing group. "Neither of the candidates has deep ties to our community. We need to know who's going to work with our community, who's going to put people of color in top positions that can move things forward."
In addition to the community coalition, several mayoral candidates and black and Latino elected officials may make endorsements in the next week or two.
Meanwhile, Walsh and Connolly have been staking out territory. Both made swings through Dudley Square, visiting businesses and chatting up commuters passing through the busiest bus station in the MBTA system.
On Monday of last week, Walsh was surrounded by a phalanx of volunteers and reporters as he passed through the station before walking the streets in Dudley Square, while volunteers fanned out with campaign literature.