Boston to hand over $1 million in budgeting to city's youth
Martin Desmarais | 11/26/2013, 9:31 a.m. | Updated on 11/26/2013, 9:31 a.m.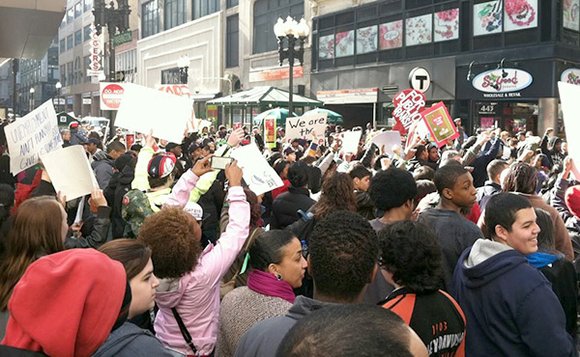 The city of Boston is joining forces with The Participatory Budgeting Project to launch a youth participatory budgeting process and has set aside $1 million to be allocated through the program. Youth involved in the program will identify projects to improve their communities, examine the best options and vote on how to spend the money.
The program will be a collaborative effort between PBP, the Mayor's Youth Council and Boston Centers for Youth & Families.
"Our most important collection of talent lies in our young people," Mayor Thomas Menino said. "It is so important to have our young people engaged in government, and to make sure their voices are heard when it comes to improving their neighborhoods. This process puts the power in their hands, and will show them what kind of impact they can make on our city."
Boston youth, community organizations and youth advocates will come together in a steering committee to begin to discuss the design and execution of the budgeting process. An information session for high school teens and youth advocates will be held on Dec. 10 at 5:45 p.m. at City Hall.
An important part of the youth participatory budgeting process will be designating a youth organizer to lead efforts and work to engage Boston's youth, as well as work with PBP and the mayor's administration staff.
"Participatory budgeting is a real school of democracy," said Josh Lerner, executive director of PBP. "Young people across Boston will learn democracy by doing — and decide how to spend $1 million on concrete improvements to their communities. I'm excited to work with the city and other community partners to build this groundbreaking new model for youth engagement and empowerment."
Participatory budgeting can be traced back to Brazil in 1989 and has been used successfully in other U.S. cities including New York and Chicago. There are currently about 1,500 participatory budgets around the world, most at the city level. Participatory budgeting has also been used for counties, states, housing authorities, schools and school systems, universities, coalitions, and other public agencies.
PBP was launched to focus on the U.S. and Canada in 2005.
Members of the Mayor's Youth Council are already at work talking to Boston teens about how the $1 million could be spent through the youth participatory budgeting process to make Boston a better place for youth.
"We are going to get a chance to identify items that are important to us, to have our voices heard, and to see projects that will benefit the city for a long time to come," said Kayla Knight, a Roxbury representative on the Mayor's Youth Council.
Dylan Lazerow, an organizer with the Youth Jobs Coalition, said Boston's youth participatory budgeting process is a tremendous opportunity for youth to be involved in the Boston budgeting process and other matters of civic engagement.
"It is really important that young people are taking control of their own lives and understanding how government functions and, more than just understanding it, having an impact on it," Lazerow said. "We find it crucial and vital to our success and our teens' leadership development and growth."