Trayvon Martin's attorney, mom visit Cambridge for forum
Shanice Maxwell | 11/25/2013, 2:28 p.m. | Updated on 11/25/2013, 2:28 p.m.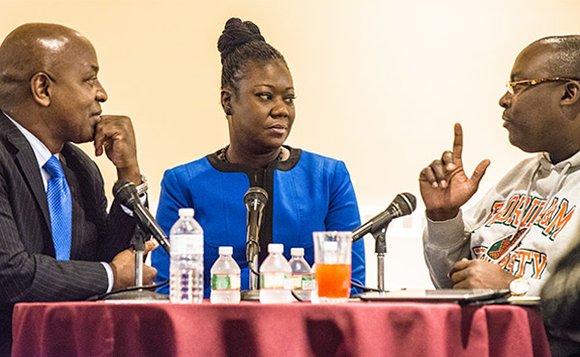 Issues of racial profiling and violence against black youth were front and center in a recent Cambridge forum with the mother of shooting victim Trayvon Martin and her attorney at St. Paul African Methodist Episcopal Church.
The event, which was attended by 200 people, included Sybrina Fulton, Trayvon Martin's mother and Daryl D. Parks, the Martin family attorney, and was moderated by Professor Charles Ogletree of Harvard Law School and executive director of the Charles Hamilton Houston Institute for Race and Justice.
Organized by the Charles Hamilton Houston Institute, the St. Paul African Methodist Episcopal Church and the Cambridge Black Pastor's Alliance, the goal of the forum was to have a community conversation around the issues that arose since 17-year-old Trayvon Martin lost his life and a not guilty verdict was delivered at the trial of George Zimmerman, who shot him.
The forum focused on the implications of the case for the future as well as what young black males must currently contend with. There was also much discussion about the "Stand Your Ground" laws implemented in 46 states, gun laws and gun control, increasing local violence, safety and race relations. The forum ended with an audience question and answer portion.
"Trayvon Martin's death started the debate about violence against black youth and is a reminder of how the nation reacted to the brutal murder of Emmett Till in 1955 and the acquittal of his killers, which became a national story. The Trayvon Martin case has once again propelled race relations and racial profiling into the national and international spotlight," said Professor Ogletree.
Sentiments of a painful past of racism and discrimination are relived for many community members at mention of Trayvon's name. For younger generations, stories told became ever real with the injustices surrounding the circumstances of his death.
"One thing you have to remember about this case was when you get this question so often: What made Trayvon so special? I kind of hate that question — it's as if the life of this young black man could not be worth anything, so what's all the fuss about?" said Parks as he began to retell the events leading up to the trial.
He declined to comment on much of the trial, though he was very vocal in his critique of the jury selection process.
Parks also discussed gun issues and safety after Ogletree pointed out that there are 310 million guns in America — just about one for every citizen — which illustrates a cultural fascination with weapons.
Parks said he does not believe that the issue is gun rights, but gun safety and the need to reduce violence, as well as reduce stereotyping, improve neighborhood watch education and establishing human rights as an issue of greater concern.
"We have to start seeing people as people," Parks said.
At times the atmosphere of the forum was reminiscent of a church service as audience members nodded, swayed, clapped and offered feedback with words and grunts of agreement and disapproval to statements made. The talk was very personal with Parks and Ogletree using clergy terms and drawing lots of parallels to racial experiences numerous people of color have had, like being pulled over for "driving while black," and so on. Lighthearted jokes and comments were made as well. The air was heavy given the topic at hand though, simultaneously, compassion and love enveloped the room.