Harvard's Dr. S. Allen Counter honored by Club of New York
11/20/2013, 11:29 a.m.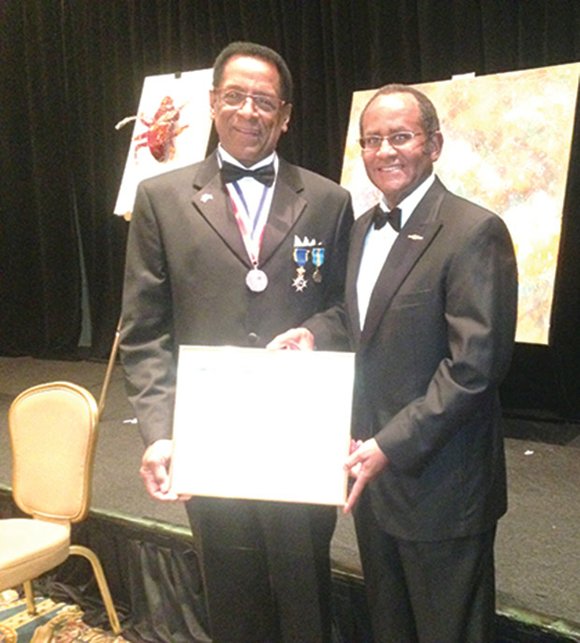 On Oct. 26, noted Harvard neurology professor and director of the Harvard Foundation, Dr. S. Allen Counter was presented with the 2013 Lowell Thomas Award from the Explorers Club of New York at a ceremony in the National Geographic Auditorium in Washington, D.C. Dr. Counter, who was elected to membership in the Explorers Club in 1989, was honored for his extraordinary scientific exploration among mercury-exposed Saraguro Indian gold miners in the caves of the Andes Mountains of Ecuador; his discovery of, and subsequent medical science research on severely lead-poisoned Andean children in the Ecuadorian Mountains; and most notably, his discovery in Northwest Greenland of the abandoned Inuit sons of North Pole explorers Admiral Robert Peary and Matthew Henson in 1986, and his subsequent re-interment of Henson among other American heroes in Arlington National Cemetery in 1988.
Dr. Counter has served Harvard University with distinction as an extensively published neuroscience professor, international emissary, and as director of the Harvard Foundation for Intercultural and Race Relations for over 30 years, where he has sustained harmonious relations among Harvard's students and faculty of different cultural and religions backgrounds. He currently serves as adjunct professor of neuroscience at the Karolinska Institute in Stockholm, and as Consul General of Sweden in Boston and New England. In 2012, he was knighted by Carl XVI Gustaf, King of Sweden.