Paul Taylor Dance Co. leaves Shubert Theatre audience spellbound
Susan Saccoccia | 11/15/2013, 6 a.m.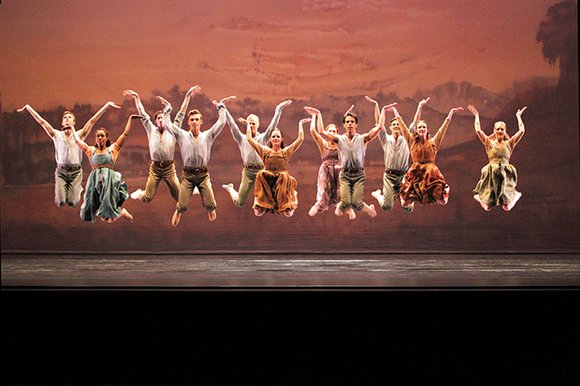 Late last month, Boston was treated to a world-class performance when the Paul Taylor Dance Company held its audience spellbound at the first of its three performances in the Shubert Theatre, a presentation of the Celebrity Series of Boston.

Since 1954, Taylor, 84, the New York company's choreographer and founding artistic director has been known for high-spirited, muscular dances that are true to human nature. With masterly staging as well as fluid, expressive movement that breathes with the music, Taylor is among the handful of pioneers who reinvented dance, freeing an art form shackled in centuries of tradition with revolutionary American energy.
The three-part program began with the Boston premiere of Taylor's 2013 work, "Perpetual Dawn," set to German baroque music of the 17th century. Evoking the same period, Santo Loquasto designed the backdrop, a dreamy countryside scene that resembles a painting by Antoine Watteau, and the rustic costumes in pale earth tones worn by the dancers, six men and five women. Warmly lit by James F. Ingalls, the dance unfolds like a painting come to life.
Its subject is the titillating and vulnerable experience of first love. From the first moment, a duet between two men who hold hands and mirror each other's leg lifts, the dance playfully echoes traditions of classical ballet. Men, as well as women, pirouette and leap with earthy gusto and freeze mid-motion like stick figures. Injecting a bit of social satire, the females gather to titter with gossip and the men huddle to rally one another.

Sweet but never saccharine, the work builds in the robust geometry of country dancing and its flowing interplay of pairs, trios, circles and lines. Moments of quirky intimacy also find their way, such as Michelle Fleet's irked female, who seeks a partner; and a tender duet by Eran Bugge and Francisco Graciano that radiates the joy of coupling.
The program quotes a poem by Emily Dickinson conjuring a moment in which time stands still in an endless dawn. As the curtain falls, the dancers' legs and feet continue to move, as if in an endless dance.

In Taylor's riveting and austere "Private Domain" (1969), a score by Iannis Xenakis for strings, horns and percussion creates music without melody, while an ensemble of three men and five women performs stop-and-start movements suggestive of sex without love.
Known for sleek, semi-abstract portraits, painter Alex Katz designed the spare set and body-baring costumes — navy swim trunks for the men and shimmering aquamarine two-piece bathing suits for the women. Three vertical panels divide the stage like pillars and create a hide-and-see effect. At times obscuring dancers' limbs, the panels guarantee that no two people see the same performance as the dancers pose, tumble and enfold one another with cool intensity.
All 13 dancers take feature roles in "Black Tuesday" (2001), a Taylor masterpiece that resurrects eight songs from the Great Depression. They portray a gallery of people whose makeshift ballroom is the base of a Manhattan bridge. Santo Loquasto's soaring backdrops and Jennifer Tipton's lighting reflect the mood of each song. The costumes, also by Loquasto, cloak the dancers in tattered elegance — from the men's worn vests and sagging jackets to brooch-laden hats and flouncy dresses that let the women shimmy with jitterbug joy. These people may be penniless but they have style.