Wynton Marsalis nears greatness with his 'Abyssinian Mass'
Kevin C. Peterson | 11/8/2013, 6 a.m.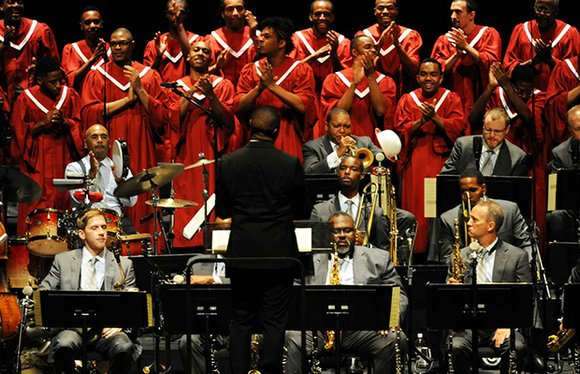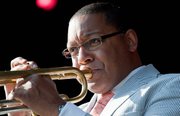 Midway through the "Abyssinian Mass: A Gospel Celebration," composed by jazz master Wynton Marsalis and performed recently at Boston Symphony Hall, it becomes clear that this epic homage to black sacred music nears a certain greatness.
A sprawling and densely fashioned work intended to mine the great trove of sacred songs and hymns created by blacks in America over the course of three centuries, Abyssinian is a craftily delivered spiritual drama of exacting and moving quality. It is a highly refined musical depiction of the African-American imagination and tonal output developed around their relationship to deity, the Hebrew and New Testament scriptures and the Christian outlook handed down to them by white slaveowners.
Superbly invoked are the elements of plantation praise songs, rolling spirituals from the 19th century, holy dirges, high octane Pentecostal riffs, sanctified anthems, feet stomping, hand clapping, whistling and syncopated tambourine shaking — all giving documentation of the varied and rich dimensions that informs this music's complex history.
If sacred music aims to establish a communication between mortals and the divine, then black religious music in America meets this aspiration with verve and confidence. The characteristics of this music were on display on Oct. 27 at the Boston Symphony Hall, where Marsalis, who leads the Lincoln Center Orchestra, was accompanied by Damien Sneed's 70-member choir, Chorale Le Chateau.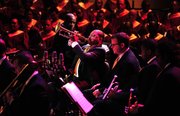 Originally a composition commissioned by the Abyssinian Baptist church in Harlem for its 200th anniversary, the work was first issued and performed in 2008. It was revised and toured throughout October in multiple cities, beginning in the south and ending in Boston.
Few works of jazz have accomplished interpreting the sound and meaning of black religious music better than those produced by Duke Ellington in his concerts from the late 1960s to the early 1970s. Ellington's trilogy of sacred performances featured now iconic offerings such as "Come Sunday," "In the Beginning God," and "And Ninety Nine Percent." The concerts demonstrated Ellington's ability to cast in cadence and sentiment the nuances of spiritual aspiration and a sense of community, cultural history and destination that black sacred music evokes.
Marsalis' Abyssinian is similarly ambitious and sweeping in its attempts to convey tragedy, achievement, joy, and melancholy — all core features of the black religious creedal experience.
Matching the work's ambition is its length and sheer complexity, consisting of 25 sections, performed by the Lincoln Center Orchestra, the choir and both simultaneously. The result is a spectacularly rendered presentation that clearly marks black church music as what it is: a canon of remarkable artistry that captures a wide-range of worship styles, inventions, feelings and hopes.
Specific sections of Abyssinian stand out for their intricate beauty and innovation. "The Glory Train" astonishingly blends precisely enunciated vocals, syncopated hand clapping and the mix of trumpets, reed and percussion sections with emotive melodies and convincing storytelling about the anticipated afterlife in heaven. "Pastoral Prayer" begins with upbeat Pentecostal jubilation before resolving to full, lucid, bluesy statements that reminds the listeners of the temporal disappointments that visit even the lives of believers in Christ. The middle section of Abyssinian features a three-part sermon paced to various sacred genre stylings created post World War I. And "Offertory" conveys the creative complexities that are signature to Marsalis' writing, composition and deep understanding of pathos.
Abyssinian is organized around the structure of the Catholic Sunday Mass. Yet its content reflect the refined elements of the music and devotional styling of the low and high church that Africans produced in America, ranging from the musical cadence of the ring shout to the glorified sounding of the spirituals which were significantly based on European musical patterns. Highly eclectic, Abyssinian additionally possesses the juxtaposition of different music styles found over the world, ranging from Spanish melodies, African modal music, East African polyrhythms, Irish dance songs, Mediterranean folk melodies and West Indian chants.
Abyssinian's only shortcoming may be its length and the weighty cerebral effect it causes during the course of conveying so much information. For this Marsalis can be excused as he otherwise has created a substantive work to be thoroughly enjoyed.