Viet-AID honored for work improving Fields Corner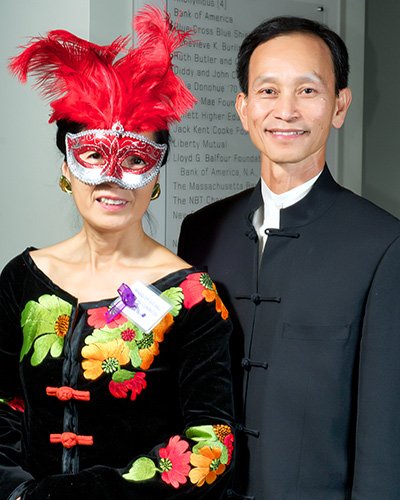 Dorchester House President and CEO Walter J. Ramos says honoring Viet-AID was an easy choice.
"The idea was to celebrate Dorchester and all that Dorchester has to offer," he said."Also to celebrate organizations we work with that are major contributors to Fields Corner and Dorchester."
The clear choice was Viet-AID, a community development corporation that serves the Vietnamese community and the Dorchester neighborhoods where they live.
"For us we felt it was important to recognize them and the contributions they make to the Fields Corner neighborhood," he said.
According to Ramos, Viet- AID has done much to bring the Vietnamese community to the forefront of the Fields Corner neighborhood.
Since it was started almost two decades ago, Viet-AID has delivered a long list of accomplishments supporting the Vietnamese community.
In 2002, Viet-AID opened a 18,000-square-foot community center in Fields Corner and holds annual Vietnamese cultural celebrations there. The organization has also developed 128 units of affordable housing, most recently the Bloomfield Gardens development on Geneva Ave., as well as over half-a-dozen commercial spaces.
Nam Pham, executive director of Viet-AID, said the organization is very pleased with its success in building affordable housing in Dorchester to support the community and allow its residents to continue to live there.
"The need for affordable housing in our community keeps increasing and around Dorchester we never have enough good affordable housing so over the last 10 years we have focused on doing more to meet the needs of our community," Pham said. "We not only build affordable housing units, we also build very good quality."
The group runs a small business assistance program, an early childhood education and care program, an after-school and summer program for Vietnamese youth, a first-time home buyer program that has worked with over 400 families and a foreclosure prevention program.
Viet-AID has also worked in collaboration with environmental health advocacy, research and service agencies, to provided education, training and technical assistance to workers and business owners in the hardwood floor re-finishing and nail salon industries — Vietnamese dominated business that use highly toxic materials — on adopting safer materials and practices.
The organization heads up Fields Corner Connect, a neighborhood-wide effort to promote public safety and awareness.
Viet-AID also backed a resident project to build a community garden at the corner of Freeman St. and Faulkner St.
Pham says he is excited about Viet-AID's newest project, an approximately $14 million development of 35 units of affordable housing along Washington St. in previously vacant buildings. The Four Corners development project will also have a handful of units designated for very low-income housing, 3,000 square feet of commercial space and community space.
Viet-AID has been working on the project for several years and is now moving forward on it with the Boston Redevelopment Authority.
"We are very happy that we received overwhelming support from the neighborhood," Pham said. "The project will bring change and provide decent housing for working families in the neighborhood."
Pham has been executive director of Viet-AID for the last two-and-a-half years, but he has been on the organization's board for 10 years and was involved with it from its launch, so he has seen the growth first hand.