Alvin Ailey company soars at inspirational Boston show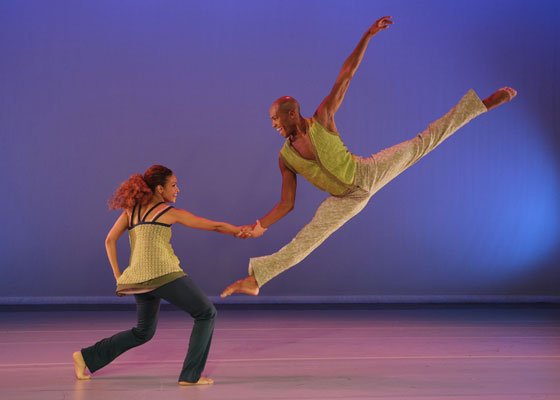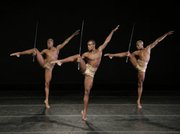 From left: Yannick Lebrun, Kirven James Boyd and Antonio Douthit of Alvin Ailey American Dance Theater in "Petite Mort," choreographed by Jirí Kylián.
The Alvin Ailey American Dance Theater launched its annual visit to Boston on Thursday night with a magnificent program that showed the company at the height of its powers.
Under the stewardship of Robert Battle, artistic director of the company since July 2011, the legacy of founder Alvin Ailey was intact in a program that combined masterful solos and duets with ensemble pieces fresh with humor, surprise and variety.
This year's stay marked the 43rd year that the Celebrity Series of Boston has presented the Ailey company, which performed five shows over four days at the Wang Theatre and conducted workshops with students at the Boston Arts Academy and other organizations. The company's outreach has nurtured thousands of young dancers, including the two Boston Academy graduates who are among its 30 members: Belen Pereyra of Lawrence and Kirven James Boyd of Dorchester.
Concluding a 21-city tour, the Boston performances included a farewell tribute to Renee Robinson, who is retiring after a three-decade career as an Ailey dancer. Friday evening's program, entitled "Ailey Classics," was dedicated to Robinson, who performed her signature roles in Ailey's "Night Creature" and his masterpiece, "Revelations."
New works were on display Thursday, starting with the Boston premiere of "Another Night" (2012), created for the company by acclaimed choreographer Kyle Abraham, whose works connect the past and present of African-American experience. Naoko Nagata's colorful costumes matched the spice of the dancing and the music, a recording of Dizzy Gillespie's sinuous "A Night in Tunisia" by Art Blakey and the Jazz Messengers.
A silent solo by Jacqueline Green began the piece. Wearing an emerald green costume and surrounded by a circle of green footlights, she skipped, bounded and dipped, evoking elements of West African dance. As the music began, 10 dancers joined her and translated its pulsing rhythms into a variety of duets. Two men mirrored each other's hip-hop style moves, whirling on a single foot or a hand. Another coupling paired the ensemble's tallest dancer — Jamar Roberts — with the smallest, Hope Boykin. Dressed in a mix of harlequin colors, the ensemble looked like musical notes come alive.
Next was a solo work, "In/Side" (2008) choreographed by Battle to Nina Simone's "Wild is the Wind" and performed by Kirven James Boyd. Moving in a horizontal shaft of light that sculpted his every muscle, Boyd rendered the vulnerability of the body as well as its power.
The third work, adventurous Czech choreographer Jirí Kylián's "Petite Mort" (1991), displayed a stately sense of play. With the set and props by Kylián, who likes to create memorable stage pictures, the dance mined the male-female dynamics of erotic encounters.
Ohad Naharin, artistic director of the Batsheva Dance Company in Israel, choreographed the evening's finale, "Minus 16" (1999) and designed its costumes. Surging surf guitars, fusion rock and traditional Israeli songs accompanied the 20-member ensemble scenes in "Minus 16," which also included a sublime duet to Vivaldi's hymn, "Stabat Mater," performed with tenderness by Boyd and Ghrai DeVore. Naharin dedicates the duet to his late wife Mari Kajiwara, who was a member of the company.