Head trauma survivor Charmaine Santiago Galdon returns to the dance floor
Yawu Miller | 5/15/2013, 8:04 a.m.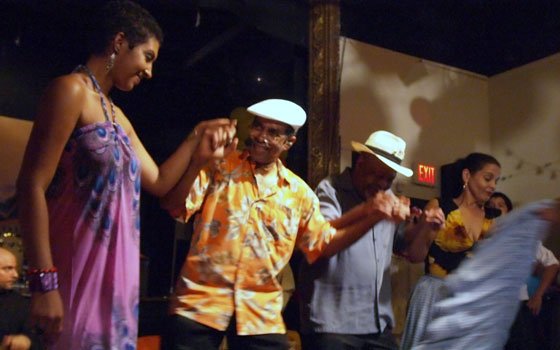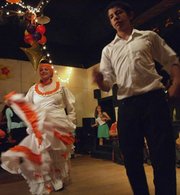 Back in January, no one thought they would ever again see Charmaine Santiago Galdon walk onto a dance floor, let alone dance.
An outgoing, artistically inclined dancer with a passion for Latin dance, Charmaine was deeply involved in the city's Latin music and dance scene. But in an instant, she was left clinging to life by a thread when she sustained a serious head injury in a nearly fatal incident.
Both she and her family members declined to comment for this story.
As word of the accident spread, dozens of friends and co-workers from Inquilinos Boricuas en Accion, where she worked as a youth organizer, turned out to Boston Medical Center to pray and lend support to her family.
The prognosis was grim. Doctors doubted that Charmaine would regain enough brain function to walk, talk or do anything on her own. Fewer than 1 percent of patients with similar brain injuries ever recover, they said.
But her father, band leader and artist Jorge Arce Santiago, refused to give up hope, maintaining a vigil by Charmaine's bedside.
Then came the miraculous recovery. Within weeks, Charmaine regained consciousness and began to talk. And, as the weeks went on, she continued to improve, regaining vision, motor skills and memories.
So it was that just four months after an injury that nearly ended her life, Charmaine was feted at Spontaneous Celebrations in Jamaica Plain with a benefit held to help defray the hefty medical bills her family has incurred.
More than 200 friends and supporters turned out to last Saturday's event, which featured a who's who of musicians and dancers.
"Ladies and gentlemen, I present to you Charmaine Santiago Galdon," boomed emcee Jose Masso, host of the long-running WGBH Latino music radio show, Con Salsa.
At first, Charmaine sat placidly in a folding metal chair at the front of the hall. Then, she stood smiling to acknowledge the applause from her supporters — an assembly of dancers, musicians young and old, Puerto Ricans, Dominicans, blacks and whites.
But when her father's band made its way onto the dance floor, with Arce Santiago himself leading the procession of percussionists with hand-held drums, trombonists and trumpeters, the mood elevated from cheerful to jubilant.
Soon enough, Charmaine was on her feet, dancing.
Friends and supporters joined her on the dance floor, taking turns greeting her with tearful embraces.
The musical extravaganza went on until midnight, with performances from local Puerto Rican musicians and dancers, including the Bomba group Charmaine co-founded with friends, Bomba Sankofa.
Bomba, an African dance form created in 19th-century Puerto Rico, was a passion for Charmaine. In addition to members of her dance troupe, local Bomba pioneers including Don Roberto Cepeda and Tito Ayala were present.
Through it all, Charmaine stayed on the dance floor, taking turns dancing with friends and family members, moving gracefully and a little bit cautiously.
Her rehabilitation is far from over. It may be weeks yet before she is ready to come home. A complete recovery is by no means certain. But with the miracle of her recovery already an established fact, her family, friends and fellow dancers are expecting it.