Director Mira Nair discusses new film "The Reluctant Fundamentalist"
5/15/2013, 9:07 a.m.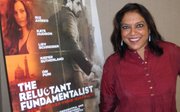 Mira Nair is globally known for her critically-acclaimed films of love, heartbreak and the human condition. Born in India, educated at Delhi University and Harvard, the self-described "activist" debuted her groundbreaking film "Salaam Bombay!," which chronicled the day-to-day life of children living on the streets of Mumbai, in 1998. It won the Golden Camera award at the Cannes Film Festival and was also nominated in the category of "Best Foreign Language Film" at the Academy Awards. With proceeds from "Salaam Bombay!" Mira established the non-profit organization Salaam Baalak Trust, which provides shelter and a safe environment for 5,000 street children in India annually.
That film was followed by the 1991 drama "Mississippi Masala," which starred Denzel Washington and Sarita Choudhury and told the story of an African American man (Washington) and a Ugandan-Indian woman (Choudhury) who fall in love despite the apparent cultural differences and objections by friends and families. Since then, Nair has directed several other films, including "Monsoon Wedding," "Vanity Fair" with Reese Witherspoon and "The Namesake." In 2009, she also directed Hilary Swank in the film "Amelia," based on the life of American aviation pioneer Amelia Earhart.
Her latest film, "The Reluctant Fundamentalist," takes place in Lahore, Pakistan in 2011 and is based on the novel by Mohsin Hamid about a young man who finds himself torn between the worlds of Islam and capitalism. The film is rounded out by Liev Schreiber, Kate Hudson, Kiefer Sutherland and Om Puri.
At a roundtable interview last month, Nair spoke about the concept of "the outsider" in her films, her love of independent filmmaking and the making of The Reluctant Fundamentalist.
In your films you have this theme of the underdog with a passion for the "outsider." What drives you to bring these stories to light?
Coming from India, where it's very tough to turn a blind eye to the discrepancy of class in your life, it's all cheek [by] jowl in terms of the rich and the poor. I came from a place where I was turned on by life. My mother says this funny story about how at 11 years old, I would go jogging in our little town and I would always return with the milkman, because the milkman's story was much more exciting than exercising for another block. I would talk to him and she would think I was nuts. These stories of people who are cast out as the marginal, I always wanted to rock that boat, because who decides that? In the so-called marginal I found the greatest inspiration.
Where did the genesis of "The Reluctant Fundamentalist" come from?
The genesis of this film came from visiting Pakistan for the first time. As a child in modern India, you don't really get to cross that border because we know the partition happened in 1947. There was this real war between the two countries. I wanted to make a modern day tale of this country that is unseen and is known in a totally different way. Six months after that, I read Mohsin's novel and manuscript. It hadn't even been published yet, and I felt it really called to me, because it was not only giving me the springboard to make this modern tale, but it was also in its bones a dialogue with America. How to bring complexity and intimacy and love, I think, and grace, I hope, to these worlds that really increasingly do not know each other and need to know each other. Look at what's happened as a result of this last decade of violence that has created only destruction and no understanding. And, that's how it started.