in the Mix
5/1/2013, 11:34 a.m.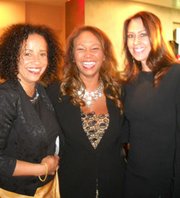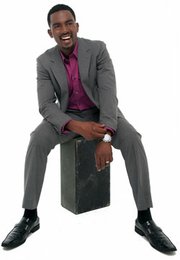 (L-R): Actress Rae Dawn Chong, Jaden's Ladder co-founder Oneta Bobbett and friend Shelly Brown at the "Bright Lights, Big City" gala at the Ritz Carlton Hotel on April 20. (Colette Greenstein photo)
Comedian and actor Bill Bellamy performs at the Wilbur Theatre this Friday. (Photo courtesy of Zsanae Davis)
"Bright Lights, Big City" Gala
It was an evening of music, dancing and fun at the Fifth Annual "Bright Lights, Big City" gala at The Ritz Carlton Hotel in Boston. Hosted by "Coach" Willie Maye and presented by Ambassadors JoJo and Debbie White, the evening included a live and silent auction, music by DJ Roy Barboza and a live performance by Taylor Dayne, who got the crowd up and dancing as she sang her classic hit "Tell It To My Heart." Supporting the event was Larry Brown, NBA Hall of Fame coach, and his wife Shelly; Marshall Faulk, NFL Hall of Famer and former running back with the St. Louis Rams; Patrick Pass, former New England Patriot; Harry Douglass, Atlanta Falcons wide receiver; Officer Jenn Penton from Donnie Wahlberg's hit TNT show "Boston's Finest"; and actress Rae Dawn Chong. Jaden's Ladder is a nonprofit organization that assists survivors of domestic violence with life-enhancing, post-shelter programs and support that builds confidence and fosters self-reliance. The 200-plus people in attendance raised $168,000 for the non-profit.
Bill Bellamy Brings the Laughter!
Fresh from his third Showtime special "Ladies Night Out," comedian and actor Bill Bellamy has been performing stand-up comedy for almost 20 years. The Newark, N.J., native began his stand-up career while a student at Rutgers University, honed his skills at small comedy clubs around the country and soon was making waves in New York clubs like The Improv and The Comic Strip, and at The Comedy Store in Los Angeles.
His first television appearance was on "Showtime at the Apollo," which was followed by a spot on "Def Comedy Jam" where he notoriously coined the phrase "booty call." The catchphrase caught like fire, and it soon became the name for his first Showtime comedy special. On the heels of the success of that special, Bellamy became a staple on MTV, where he hosted shows such as "MTV Jams" and "MTV Beach House."
It was only a matter of time before Bellamy transitioned to the big screen with roles in the films "Love Jones," "How To Be A Player," "The Brothers" and "Any Given Sunday." Between television gigs, film roles and touring, he debuted his second comedy special, "Crazy Sexy Dirty," for Showtime, and he's currently starring on the syndicated sitcom "Mr. Box Office."
Bellamy recently chatted with the Banner about his comedy career and his stop in Boston this Friday.