Forry looks to continue public service as 1st Suffolk district senator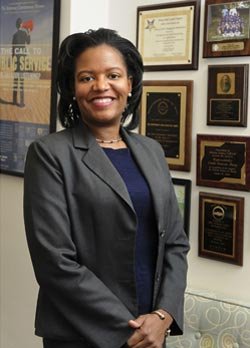 State Rep. Linda Dorcena Forry is the epitome of the "New Boston."
The first generation Haitian American woman learned progressive politics in the early 1990s when she worked as a legislative aide for rising political star and then State Rep. Charlotte Golar-Richie, elected in 1994.  
While working constituent services, Forry learned about the multitude of issues confronting the residents of the 5th Suffolk District, everything from the need for affordable housing, health care and jobs to economic development and quality education.
Forry's political education continued when Mayor Thomas Menino tapped Richie to run Boston's housing department and Forry agreed to come along.   
The next thing anyone knew, Forry, a Democrat, had launched her own campaign for the state rep seat of the 12th Suffolk District. She was elected in 2005.
Having served the residents of the 12th Suffolk District — which includes the Town of Milton, and Boston's Mattapan, Hyde Park and Dorchester — for the last eight years, Forry, 39, is now seeking the vacant state senate seat in the 1st Suffolk District that was left when Jack Hart of South Boston stepped down to take a job in the private sector earlier this year.
Also vying for the seat encompassing South Boston, Dorchester, Mattapan and Hyde Park are South Boston's 4th Suffolk District Rep. Nick Collins, 30, and Maureen Dahill, 43, who is known for her local blog "Lost In Southie."
The Special Election for the district seat is on April 30. On the Republican side is challenger Joseph Ureneck, a Dorchester businessman.
To some observers, Forry is an ideal candidate.
"She doesn't look at people according to race or neighborhood, she looks at people regardless of race or religion and just sees people and the need," said media and political strategist Joyce Ferriabough. "She's part of a generation of folks who are really trying to engage in public service. I see her in the same way that I view [City Councilor At-Large] Ayanna Pressley and [District 2 City Council candidate] Suzanne Lee. They work past color barriers to serve people and it's really refreshing to see that focus on public service rather than on political machinations."
Bill Walczak, co-founder of the Codman Square Health Center and neighborhood activist, said he too is a Forry supporter. "She is very devoted to improving the lives of those in the community, she's supportive of community programs and, when I ran the health center, she was a big supporter of them as well as community development."
The community support is not surprising for Forry, who attended St. Kevin Grammar School, Monsignor Ryan Memorial High School and Boston College.
"I've also known her for probably 15 or 20 years — a long time — and I've found her to be a very honest and capable person with enthusiasm for the people she represents," Walczak added. "She's aligned with a lot of what I believe in with respect to government."
The following are Rep. Linda Dorcena Forry's views on a variety of issues: