Arts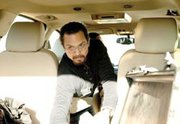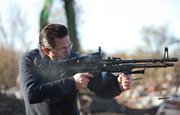 Born in San Francisco on Dec. 16, 1963, Benjamin Bratt's career has successfully spanned movie and television for over 25 years. His résumé includes the critically acclaimed "Piñero," a powerful portrayal of poet-playwright-actor Miguel Piñero; Steven Soderbergh's "Traffic"; and "The Woodsman," a festival and critical favorite starring Kevin Bacon.
Television audiences recognize Bratt from his award-winning role as Detective Rey Curtis on NBC's long-running drama "Law and Order." He also starred in AandE's miniseries "The Andromeda Strain," based on the novel by Michael Crichton, which garnered seven Emmy nominations. Additionally, he served as series lead as well as producer on AandE's "The Cleaner."
A veteran of dozens of films, Benjamin's other work includes "The River Wild" opposite Meryl Streep; "Blood In, Blood Out" with director Taylor Hackford; "Clear and Present Danger" with Harrison Ford; "Abandon" opposite Katie Holmes and the screen adaption of Nobel Prize-winning author Gabriel Garcia Marquez's "Love in the Time of Cholera."
In "La Mission," Benjamin re-teamed with his writer/director/producer brother Peter Bratt to star in and produce a story which recalls the culture, people and beliefs of their childhood in the Mission district of San Francisco. He and Peter joined with producer Alpita Patel to form 5 Stick Films, a production company geared toward films of conscience, to tell stories with passion, vision and personal reflection.
Bratt is married to actress Talisa Soto Bratt. They live in Los Angeles with their two children, Mateo and Sophia.
What interested you in "Snitch"?
A few things, actually. I really liked the script. [Director] Ric Waugh happens to be an old friend of mine. We sort of came up together. His father, the great Fred Waugh, was the stunt coordinator on the first series I ever did, "Nasty Boys." And Rick, believe it or not, was a kid who happened to be a great stuntman. It was a family business for him and his father and his brother.
Since we became friends way back when, I didn't want to pass up the opportunity to come full circle working together again, but in an actor/director relationship. You might look at my part on the page and think, hmm, it's a little small, and maybe not worth flying to Shreveport three times for just a few days' worth of work. But the truth of the matter is I was excited to reconnect with him and also to play a part that certainly looms large over the story as a kind of ominous presence of danger, not unlike the role I played in "Traffic."
When you play a hardcore bad guy like El Topo, is it a different mindset from when you play someone in law enforcement?
One might think so, but, surprisingly, the answer is "No." I think most law enforcement people would tell you that there's a very fine line between going one way or the other. On some level, as a career criminal, you're a soldier. And certainly a police officer also has that soldier's "us or them" mentality where the delineation between black and white is very clear.