Choreographer brings gravity, pathos, grace to 'All Kylián'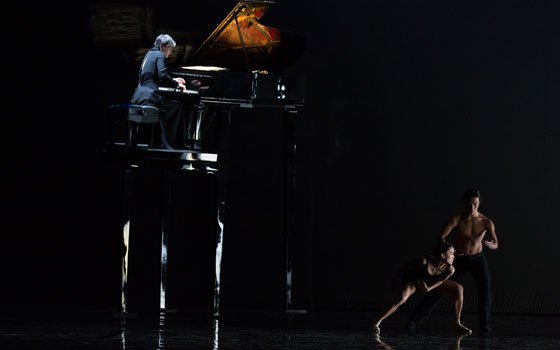 In a thrilling production at the Boston Opera House through March 17, the Boston Ballet brings three works by contemporary choreographer Jirí Kylián to the United States for the first time. Titled "All Kylián," the program presents "Wings of Wax," "Tar and Feathers" and "Symphony of Psalms."
Prague-born dancer and choreographer Jirí Kylián, artistic director of Nederlands Dans Theater since 1976, is renowned for challenging dancers and riveting audiences with stunning stagecraft and choreography.
The Boston Ballet now has nine Kylián works in its repertoire, more than any other company in North America.
At the heart of Kylián's choreography is the art of paradox. Kylián lays bare the inner life of human struggle and exaltation, bringing opposing forces into a finely tuned state of equilibrium. His dancers spin on an unseen axis; defying gravity, they leap, spiral and intertwine at high speeds. Yet just as quickly they shift into stillness as sculpted forms and morph from scenes of tender intimacy into abstract, angular formations.  
Long-time Kylián collaborator Kees Tjebbes redesigned the lighting of the three works and supervised the sets of the Boston Ballet production; the program lasts about two hours with two intermissions.
"All Kylián" opens with "Wings of Wax," (1997), a spare and striking set lit by Michael Simon. A bare tree hangs upside down from the ceiling, its roots above. The eight dancers wear black leotards (designed by Joke Visser) that expose hands, arms and feet. The men wear black socks. The light accents their often loose and languid limbs while the rest of their bodies are held taut.  
In solos, duos, trios and as an ensemble, the dancers move to selections from Johann Sebastian Bach and minimalist passages by Philip Glass, Heinrich von Biber and John Cage. They execute ecstatic leaps and acts of improbable balance. In the finale, their arms and legs intertwine like the branches of the tree.
The program's fusion of visual and auditory imagery peaks in "Tar and Feathers" (2006), unifying the drama of voice, music, movement and acting.
In this work for six dancers, Kylián renders the last poem written by Irish playwright, author and director Samuel Beckett, "What is the Word" (1989). The Nobel laureate wrote the poem at age 83, and dedicated it to his friend, actor and director Joe Chaikin, who had directed several of Beckett's plays. Several strokes left Chaikin with severely impaired speech, a condition he fought and also dramatized until his death in 1983 with staged works written for him.
Like Beckett, Kylián brings showmanship, humor, gravity and grace to the contemplation of life's tragic limits and grandeur.  
In the opening scene, the stage is bare except for a mound of white Styrofoam.
As a cloud-like band of light slowly descends from the ceiling, six dancers perform alone and in duos and trios. Outfits again by Visser, bare-chested men wear black pants and socks. Dressed in short black leotards, the women's legs are revealed.
A soloist contorts her mouth as if in horror or rage, and emits a deep, growling bark. Jutting, angular gestures that mimic the flailing of an impaired person alternate between moments of flowing, liberating grace, as if to suggest the struggle of expressing lost or faded words.