Michelle Rhee talks about founding StudentsFirst
Author and education reform advocate says setting high expectations for students is key
Kam Williams | 6/5/2013, 2:36 p.m.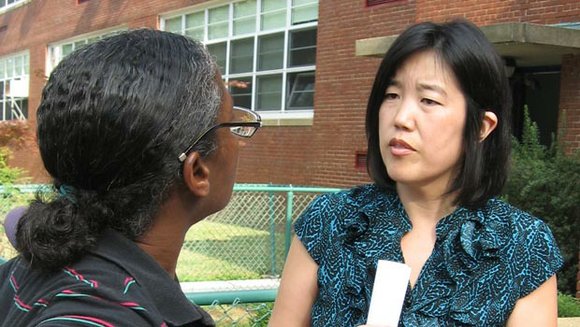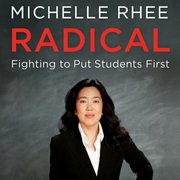 Michelle Rhee was born on Christmas Day, 1969 in Ann Arbor, Mich. A first-generation Korean-American descended from a long line of educators, she embarked on a career as a teacher in inner-city Baltimore soon after graduating from Cornell University with a B.A. in government.
However, her star really started to rise after she earned a master's degree in public policy at Harvard University's prestigious Kennedy School. She was subsequently recruited by NYC School Chancellor Joel Klein to help handle his stalled contract talks with the teachers' union.
And on the strength of Michelle's negotiations with United Federation of Teachers President Randi Weingarten, Klein recommended his feisty protégé for the top job in Washington, D.C. Their public schools were among the worst performing in the nation, and Rhee found a very receptive Mayor in Adrian Fenty, who gave his new hire free reign to overhaul his troubled system in accordance with her controversial reforms.
She would spend a stormy three years in the public eye as the embattled schools chancellor of the Washington, D.C., public schools. Employing a "kids first" philosophy, Michelle chopped heads in the top-heavy administration, firing dozens of dead wood principals, laying off hundreds of extraneous office workers and closing over 20 underperforming schools.
Although students' test scores improved dramatically during her brief stint in the position, her anti-union stance proved unpopular. Mayor Fenty's reelection bid was basically a referendum on whether the city wished to continue with Rhee's scorched earth philosophy. When he lost, her days were numbered, so she handed in her resignation rather than wait around to be fired.
Michelle, a mother of two, is married to former NBA star Kevin Johnson, who is now the mayor of Sacramento, Calif. She is the author of "Radical: Fighting To Put Students First." Earlier this year, she was the subject of a Frontline profile, "The Education of Michelle Rhee."
Tell me a little about your new organization, StudentsFirst.
I started StudentsFirst when I left D.C., essentially because of what had happened to my boss [Mayor Fenty]. I had very naively taken the job believing that, if we worked hard for the kids and produced results, people would want it to continue. But I learned that that was absolutely not the case, that people were less focused on the results than on the process and the personalities. The problem was that we didn't have any political muscle through which we could support and defend a person like Fenty. So, that's why I founded StudentsFirst, to create an environment where we have a powerful political force advocating on behalf of children. We now have 2 million members across the country who are putting pressure on their elected officials to put the right laws and policies into effect.
Where did you get the confidence that you could create a national organization from nothing?
From a combination of things. Being able to announce the launch on The Oprah Winfrey Show, and saying that we were going to get a million members and raise a billion dollars in a year was huge. People thought I was crazy. But I have long believed that there are many people out there who are incredibly frustrated with the educational system. I felt that if we could capture that sentiment, and mobilize them to take action and organize others in their communities, then this could be a very powerful force.