Bankruptcy judge asked to release First District AME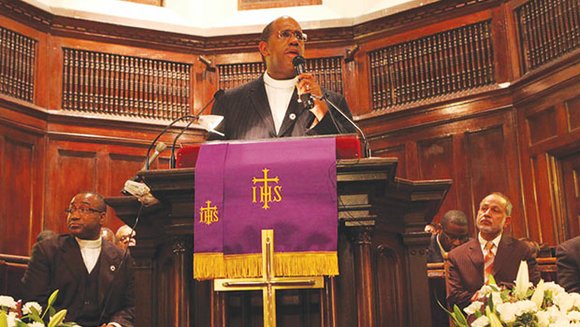 Among the issues being weighed by U.S. bankruptcy Judge Frank Bailey, none are as critical as the request by Charles Street African Methodist Episcopal Church attorneys to release the AME's First District from its financial responsibilities associated with co-signing a $3.6 million loan with OneUnited Bank on behalf of its member church.
In exchange for such a release, church attorneys argue, the First District would donate $1.5 million to complete the Roxbury Renaissance Center, the proposed 22,000-square-foot community center on church-owned land near Grove Hall featuring a grand ballroom, multi-purpose meeting space, conference rooms, prayer and meditation space and sound proof musical practice rooms.
Once completed, the church attorneys argue, the church would be able rent out space for weddings, community meetings and other events and begin repaying more than $6 million in outstanding debt.
As it stands now, Charles Street owes the significant chunk to OneUnited, the nation's largest black-owned bank, which gave the church a $3.6 million construction loan and another loan of $1.1 million to consolidate the church's debt at the time.
In addition to OneUnited, Charles Street owes about $630,000 to Thomas Construction Company, the Dorchester firm hired to build its proposed community center. Another $450,000 is owed to Tremont Credit Union for a loan to repair the church's roof, and an unspecified amount is owed to "no more than 20" other creditors.
These figures do not include more than $825,000 in Lilly Foundation grant funds that were used by the church despite the funds' designation as restricted for use only to pay for the church Pastoral Residency program. Groover admitted during the trial that use of that money for church expenses was wrong and that he intended to repay "every penny."
Based on court testimony, as of May 31, Charles St. had $5,434 in cash and is losing an estimated $20,000 per month.
Church attorneys stated in court documents that the release of the First District and its $1.5 million donation is "critical."
"By transforming an unfinished single-purpose property into a fully operational community center, this donation will create value for OneUnited by improving collateral value, Thomas Construction by facilitating … future work, and Tremont by enhancing the ability of the Church to pay debt service," church attorneys stated. "The district $1.5 million donation is the sole reason the Church can complete construction of the RRC … which along with the restructuring of the terms of various debt, is the centerpiece of the plan."
Quite naturally, as with almost everything else in this often embarrassing case that has dragged on for the last 18 months, OneUnited attorneys strongly disagreed with releasing the First District from its financial obligations. In fact, OneUnited has already sued both Charles Street and the First District in Suffolk Superior Court for breach of contract.
Those court proceedings have been delayed until after Bailey renders a decision in the bankruptcy case.
Bank attorneys argue that OneUnited based their original loans on the strength of the First District's financial statements that were submitted as part of the loan application.