On the Go with Ato Essandoh!
Ato Essandoh talks about life, career and the good fortune of having two hit TV shows: Copper and Elementary
Kam Williams | 7/26/2013, 6 a.m.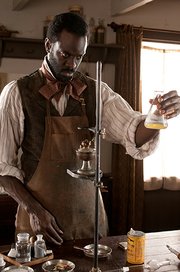 After hypnotizing audiences as D'Artagnan, the slave who was mauled to death by dogs in Django Unchained, Ato Essandoh now stars as Dr. Matthew Freeman in the second season of BBC America's highest-rated series premiere ever, Copper.
Born in Schenectady, N.Y., on July 29, 1972, Essandoh also returns as Alfredo Llamosa, the fan-favorite former carjacker and a possible replacement for Watson (Lucy Liu) in CBS' Elementary.
On the big screen, Essandoh is widely recognized for his memorable performances in Garden State, Blood Diamond and Hitch, and for equally stellar work on such TV shows as Blue Bloods, Damages, The Good Wife and Law & Order, to name a few. Prior to acting, he studied chemical engineering at Cornell University, where he took a dare to appear in a stage production of Paper Moon.
Essandoh immediately fell in love with the stage and with acting and moved to New York City to study under the tutelage of James Price. He went on to do many off-Broadway shows, even penning his own play and co-founding the writing and performance group "The Defiant Ones."
Recognizing the importance of a healthy mind and body, Essatoh is an active yogi, practicing for the past eight years and even recently taking up Capoeira, the Brazilian martial art combining elements of dance and music. Additionally, he is a vegan and a strong believer in incorporating alternative and holistic medicine into one's lifestyle.
As for hobbies, Essatoh has been known to bring his guitar to the set where he can be heard playing the blues during downtime.
You got a degree in engineering from Cornell. So how did you end up an actor?
Ha! I was randomly offered a part in a play while at school. I was going to turn it down, but my girlfriend at the time insisted that I do it. It was a singularly thrilling experience. It just stuck with me. I found myself back in New York City a few years after graduation and decided to take some acting classes at night after my consulting job. That was it. I just couldn't shake it.
Is it hard shooting one series in Toronto and one in New York?
That would certainly be a "first-world problem," if it were. So I'm going to say no. I love working! I'll take all I can get.
Being American, how did you come to land the role on Copper, a BBC production?
I auditioned. Twice. The second time was in front of Tom Fontana, the show's creator. I didn't think I was going to get it. Months later, on Christmas Eve no less, I got the good news.
Tell me a little about your character, Dr. Matthew Freeman.
Freeman, an ex-slave, is an African American doctor practicing in the notorious "Five Points" New York City neighborhood. He is brilliant, driven and has a keen desire to help others and leave the world in a better place than he found it. That is his solemn duty. Despite the overwhelming bigotry of the times, Freeman strives to remain an example of African American achievement.